The cryptocurrency market capitalisation has lost over $100 billion over the past week, with leading cryptocurrencies falling over 13% in the last 24 hours alone. What has played a major part in this decline is regulator pressure, as well as the high sell volumes on the CBOE and CME futures markets.
Bitcoin's bulls support that investors should remain calm and hold on to Bitcoin, yet it is worth remembering that there are ordinary investors that bought the currency when its price was twice as high and the difficulty in mining only half of what it is now. It is likely that some Bitcoin supporters may lose their faith in the cryptocurrency in case it falls from its current $7,000 levels to $6,000.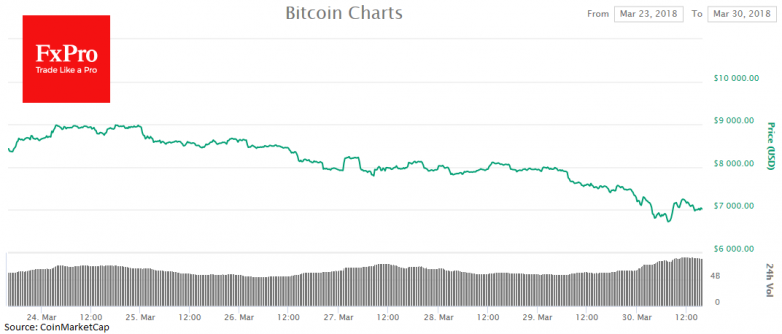 What's also worth noting is that Bitcoin's improving transaction speed has harmed Bitcoin Cash, created to solve Bitcoin's scaling problems. BTH has experienced a 5,5% decline in the last 24 hours, now trading around $730.
Pavel Durov's Telegram has also encountered scaling problems. The impressive promotion of his ICO project, TON, has led to a significant growth in the number of Telegram users, with the messenger attracting over 700,000 new users daily. Issues faced by it have seen service failures in the last couple of weeks.
In all, the crypto market trading volume has plunged, and a rise may perhaps only be provoked by sellers. What's on everyone's mind is whether this is a good opportunity to buy or the last chance to sell.