The crypto market, including Bitcoin, has started the week on the front foot. According to CoinMarketCap, Bitcoin has surged 6% in the last 24 hours. It has overcome the threshold at $7K to trade around $7,400. It is worth noting, however, that Bitcoin's growth may be short-term.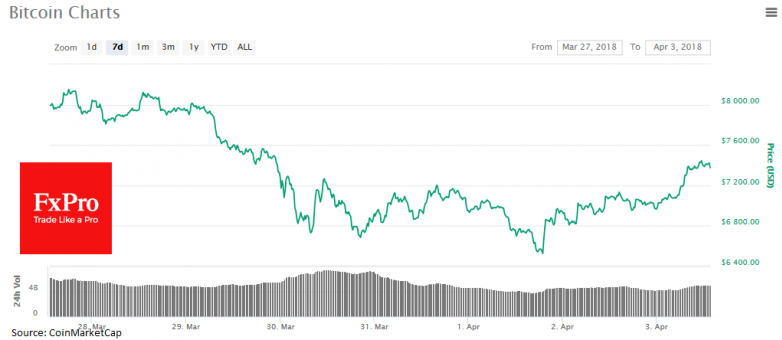 It has been learned that 10,000 BTC were transferred out of Mt. Gox trustee Nobuaki Kobayashi's wallet. Despite not being a crucial amount of currency, the market is very sensitive to this wallet's transactions.
The community has also noticed that some of the accounts belonging to other bitcoin 'whales' had received the same tiny sums of money at the end of March. The community has suggested that this could be some kind of mailing exchange, and that these transactions might contain messages coordinating their actions. Should these suspicions be confirmed, the news could cause a negative impact on the market due to the threat of potential manipulation.
It seems that the network's computing power is a new tool of influence. The market is afraid that Bitcoin 'whales' are banding together to centralize power in their hands. This approach contradicts decentralization, which is one of the fundamental goals of cryptocurrencies. Currently, the technical solutions are on the developers' side and they can protect the network. The concern is whether they will be able to continue their hold over this power in future.