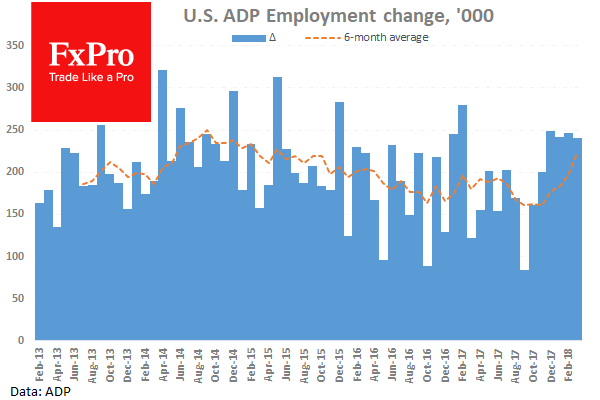 Employment in the U.S. private sector increased more than expected in March, according to the ADP. However, the dollar defiantly ignored the news, failing to register significant movement against most of the key currencies. Stock exchanges were somewhat lost during the initial reaction. However, selling had prevailed in the markets earlier in the day.
ADP data showed growth in employment by 241K against the expected 205K, from a value of 246K the month before. Over the last 4 months we have seen monthly growth of over 240K, which is a very good sign for the labor market.
It is believed that when the US labor market adds around 100K jobs monthly, it is growing within the trend. Furthermore, recent figures seem to reflect a tightening in the market.
The strong ADP data means market participants will be expecting strong official employment data when it is released this Friday.
Potentially, this news is favorable for the dollar, as it may again generate speculation about the Fed's tougher position regarding monetary policy.
However, in the markets, increasing attention is being paid to the dynamics of wages. It is believed that growth acceleration in wages will be the strongest signal for the Fed. Therefore, today, the reaction of the market is limited, as investors wait for the release of Hourly Earnings data on Friday.