According to CoinMarketCap, Bitcoin has lost more than 6.5% in the last 24 hours and is currently trading at around $6,850. It seems that $7,5K has become a serious resistance level. Since March 30, when the "death cross" chart pattern emerged, we haven't see a rapid fall in BTC.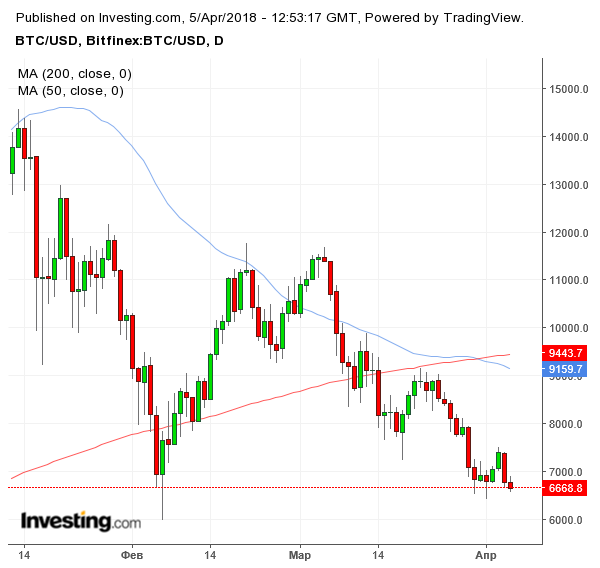 It's worth mentioning that, although the "death cross" pattern is often accurate, it shouldn't be considered as a 100% signal to sell. The pattern was initially discovered in the stock market, and like any other market indicator, it hasn't always led to confirmed price movement. Additionally, the quality of such signals decreases in the crypto market due to its extremely high volatility and low liquidity. In this case, the bearish crossover between the 50-day moving average and 200-day moving average, which has been observed over the last two months, confirms BTC's sharp turn towards a decline, and nothing more.
Among other news, the creators of ICO Centra Tech have been arrested by the U.S. SEC. Crypto exchange Binance delisted Centra and the token's price crashed by 67%. Such news has a negative impact on the market and its participants. According to research from Satis Group, only 8% of ICO projects move on to trade and approximately only 5.4% are successful or look promising. More than three-quarters of ICOs are scams, the analysts say.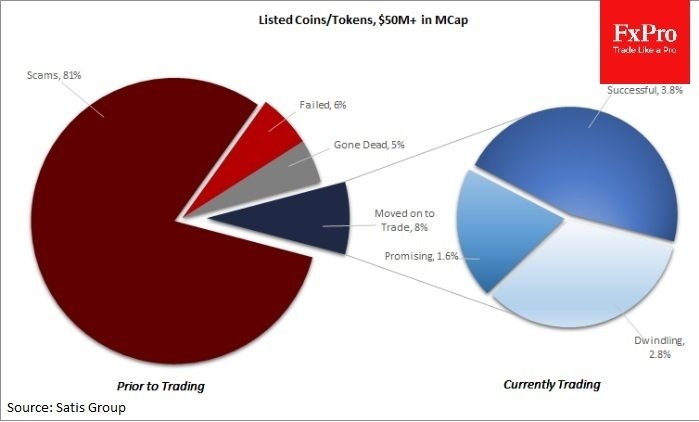 Over time the "Crypto Wild West" could become less attractive for ordinary investors and hackers. Nevertheless, 2017 remains in memory as a unique year due to the possibility of earning incredible profit, with almost no initial capital.