The latest U.S. labor market report turned out to be very weak in terms of the number of jobs created but salaries were in line with expectations. Payrolls increased by only 103K in March, the smallest growth since September, when the statistics were affected by destructive hurricanes. However, the previous readings were revised upward and were abnormally strong.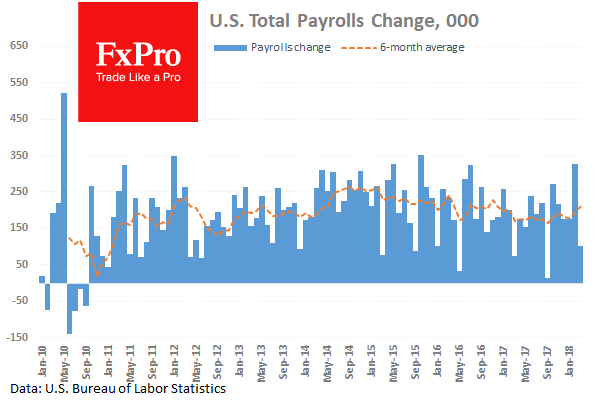 The average monthly job growth for the last 6 months is a healthy 211K. Thus, the drop in the rate of hiring is likely a correction from the previous highs, rather than a signal of weakness.
The average hourly earnings grew by 0.3% in March and the annual growth rate reached 2.7%, in line with expectations.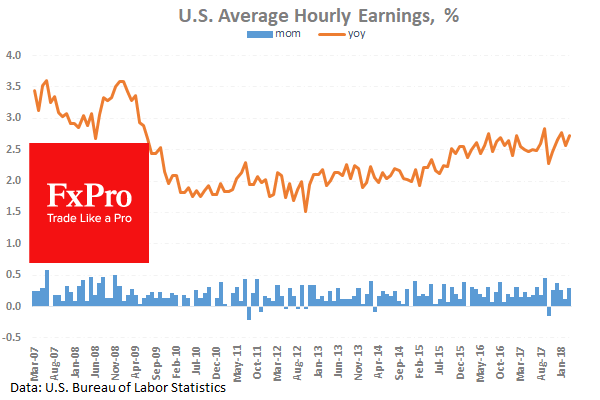 Two months ago, a sharp increase in wages caused a sell-off in the stock market. Then, investors feared that this would force the Fed to accelerate the pace of rate hikes. Apparently, the FOMC is in no hurry to revise policy. So, recent data on earnings did not have a strong negative impact on stocks. However, weak job growth puts the U.S. dollar under pressure.
In general, we received a moderately weak report, which caused pressure on the USD and was neutral for stocks. Perhaps, in his speech later this evening, Fed Chair Powell will comment on the latest statistics and could make adjustments to the dynamics.