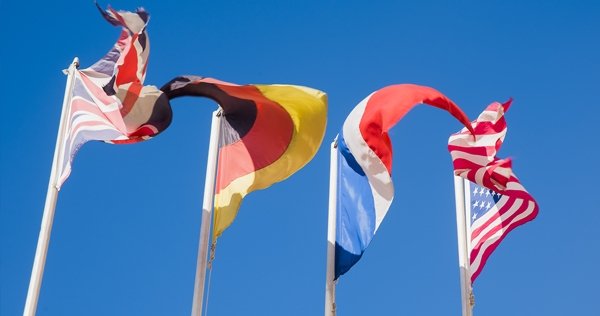 The US, UK and France took military action against Syrian Government forces over the weekend. Three targets were hit in combined missile and airstrikes, after the US had been in contact with Russia during the week, to give pre-warning and limit collateral damage. The strikes took place after market close on Friday night/Saturday morning, giving the market time over the weekend to note the limited nature of the attack. Russia has condemned the attack but no further response is expected. This has sent the markets into risk-on mode this morning, with stock markets moving higher. In FX, the response had been risk-on but has since cooled, with the USDJPY erasing its earlier gains. USDTRY moved lower but has rallied up to 4.10209. US WTI Oil has also fallen with the relief in tensions.
German Harmonised Index of Consumer Prices (YoY) (Mar) was as expected, unchanged at 1.5%. Harmonised Index of Consumer Prices (MoM) (Mar) was also as expected, unchanged at 0.4%. Coming in as expected, this data release created little movement in the markets. EURUSD fell from 1.23287 to a low at 1.23171 after the data was released.
US Fed Boston President, Rosengren, delivered the keynote speech at the Greater Boston Chamber's Economic Outlook Breakfast. He made the following comments: there should be at least 3 more US hikes this year. He's more optimistic than the already 'quite positive' FOMC on forecasts for growth. Trade tariffs risk disruption in hard-to-predict ways. Q1 jobs growth is strong, although there is a risk of boom/bust if unemployment drops too low. He expects the jobless rate to drop to 3.7% by end of 2018. The fiscal stimulus could leave the economy vulnerable in the next downturn. He also expects Powell to be consistent with Yellen but it's a bit early to talk about the Powell Fed. Finally, momentum could drive unemployment to the low-3s this year.
US Michigan Consumer Sentiment Index (Apr) was 97.8 v an expected 100.5, against a previous 101.4. The previous reading was a record high for the index and this slight slip lower is not really a big concern considering the elevated levels. USDJPY fell from 107.647 to 107.501 following the data release.
Baker Hughes US Oil Rig Counts was released, with a headline number of 815 from last week's number of 808. This was the highest level reached in some time, reflecting an increase in production as prices increase and operations become more viable. We are seeing some downward pressure on prices in early trading.
EURUSD is down -0.09% overnight, trading around 1.23281.
USDJPY is down -0.13% in early session trading at around 107.216.
GBPUSD is up 0.02% this morning, trading around 1.42463.
Gold is down 0.12% in early morning trading at around $1,344.18.
WTI is down -0.86% this morning, trading around $66.77.