The main focus today is on oil prices, which, since late 2014, have continued to rise to new heights. Saudi Arabia announced their desire to see the prices reach $80-100 per barrel on Wednesday, causing oil to jump $2 (3%) to $73.40. Saudi Arabia's comments were seen as an intent to continue limiting oil production, although oil stores are currently close to the 5-year average.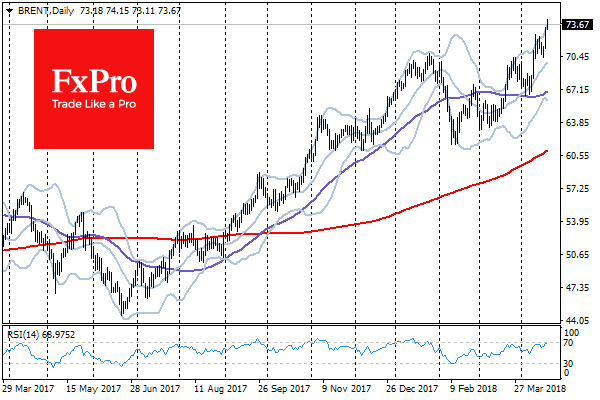 It's worth mentioning that Saudi Arabia plans to sell a 5% stake in their largest oil company, Saudi Aramco, and launch the biggest IPO in history, valued at $100Bln. Higher oil prices would likely increase demand for these shares, providing the opportunity to earn more money.
Nevertheless, this pre-sale price pumping tactic could easily turn into a time bomb. After the deal, Saudi Arabia could return to the strategy they used in 2014, refusing to balance supply and pushing prices to multi-year lows by increasing output.
Yesterday, the oil market was supported further by the release of U.S crude oil inventories. The data showed a decline of 1 million barrels, a 19.7% drop compared to last year, despite the growth in oil production, which has reached 10.54 million per day ( 14% y/y). For now, Saudi Arabia remains the 3rd largest crude oil producer, behind Russia and the U.S.A., but has the capacity to increase supply quickly.