The recovery of the stock market and the overall demand for risk are having a bumpy ride. Yesterday, the stocks of U.S. companies were put under pressure by weak quarterly reports. The poor performance of tech stocks has dragged down the whole market, however, weak reports from traditional goods manufacturers, Procter & Gamble and Phillip Morris, are adding to the uncertainty. The markets had been expecting strong earnings and forecasts, however, these seem hard to come by.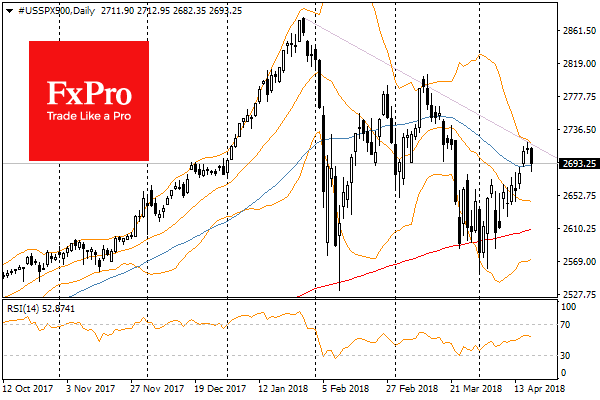 It is worth noting that American indices, the S&P 500 and DJIA30, have failed to break through resistance and are rebounding lower for the third time since the end of January, and each time this happens at a lower level. Technical analysis suggests the downtrend is likely to persist over the coming days.
Caution has spread beyond stocks. The U.S. Treasury market, which often moves in the opposite direction to stock prices, also experienced a decline.
If this trend proves to be stable, as predicted by Goldman Sachs, a new fear will likely grip the markets – stagflation. This is the combination of high inflation and a weak economy. Stagflation is usually observed in some emerging markets during periods of economic downturn but hasn't been seen in the U.S. for the last 30-40 years.
Other countries are also experiencing unpleasant economic surprises. In Britain, weak inflation and retail sales data caused the pound to drop by 2% in 3 days. The fall was intensified yesterday after the comments of Bank of England Governor Carney, who hinted that the expected rate increase in May may not occur.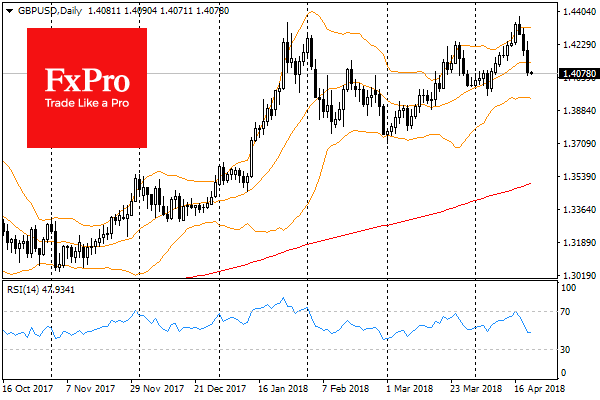 The Mexican peso is also struggling, losing more than 2% in one day. The drop was precipitated by a report that 'left-wing' candidate, Obrador, had increased his lead in the polls ahead of the election. Markets fear that a victory for Obrador, who champions an inward facing economic policy, will lead to further revision of the trade agreement with the United States.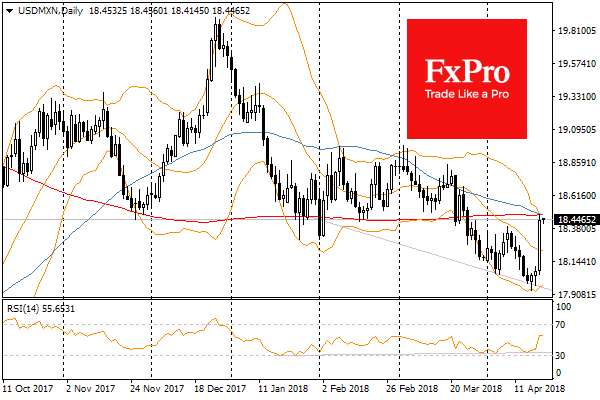 Usually, the dollar regains some of the previous days' losses, departing from extremes and entering a more moderate trading range. An increase in demand for U.S. currency, seen as a protective asset, may develop on Friday, as investors tend to lock-in profits after strong market movements. However, it is also worth considering that yesterday's move may be part of a more cautious approach. Traditionally, in early May, we see increased demand for safety – as the old saying goes, "sell in May and go away". This observation is mostly true for the markets of developing nations and Europe, while the dollar and U.S. bonds traditionally attract investors with their liquidity and reliability over the summer vacation.