The total crypto market cap has exceeded the $400 billion mark for the first time since March 8. This time, the major altcoins are leading the growth, while Bitcoin has demonstrated a moderate dynamic. It is likely that recent optimism has inspired investors, who see altcoins as a cheaper and more comfortable way to invest in the market. Nevertheless, the market's growth has once again become speculative in nature, with no fundamental basis.

According to CoinMarketCap, BTC has gained over 5% in the last 24 hours and is currently trading at around $9,400.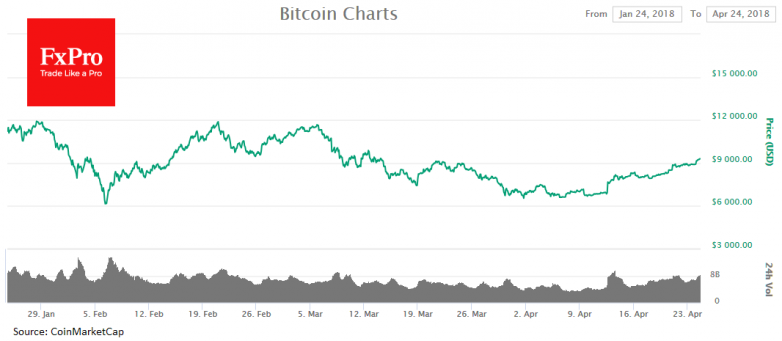 The real bright spot recently has been Bitcoin Cash. The coin has gained more than 9% in the last 24 hours and currently trades at above $1,500. In total, the coin's price has doubled over the last week, after its developers announced the network's forthcoming fork. However, analysts have warned that investors may experience a 'dump' during the fork.
The crypto market is currently engulfed by a feeling of optimism. Its participants suggest that the worst has passed and that the decrease in trading volumes has cooled the regulators' interest in the market. It's also worth noting that the difficulty in mining new coins is growing, so any positive news is likely to provoke price hikes.
These factors point to the potential of cryptocurrencies and may form the basis for the continuation of the current rally. The rally may, however, be short-lived. Despite the plans of major investors, there is a fear in the community, with many participants waiting for the opportunity to take their profits and exit the market.