Bitcoin has fallen below $8,000. The major altcoins followed the "benchmark" cryptocurrency, losing between 5% and 10% of their value. Throughout the year, each time market participants have expected growth, the trend has reversed into a decline. Bitcoin in particular, after having experienced growth for 3 weeks and attempted to move above $10,000, is now in a downward trend that has already lasted for two weeks.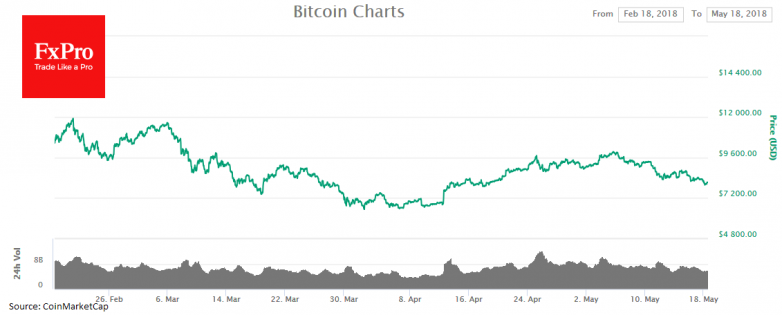 The positive start to the week was partially attributed to Consensus, the world's biggest cryptocurrency conference, which was held in New York this week. The attendees from "Big Business" focused their attention on the crypto market's enormous volatility which, according to them, is a key factor preventing their use of cryptocurrencies as a mainstream payment method.
This means that businesses need more than just bright prospects, giving particular emphasis to safety and security, something that Steve Wozniak and other renowned figures have previously mentioned. Until businesses receive these assurances, the market's growth will be limited to whatever retail investors can provide.
Zcash (ZEC) has maintained its explosive start to the week and is currently trading at $350. The Winklevoss twins have supported the currency, placing it in on the same level as Bitcoin. It is worth noting that the current Zcash difficulty has risen to the March highs, revealing an absence of strong market movers at the moment.