The GBPUSD pair is on the back foot today after US President Trump was pessimistic on any potential deal with North Korea and expressed his displeasure with US/Chinese talks. The support at 1.34000 was broken today after Monday's test with price accelerating its decline creating a new low for 2018. Support can now be found at 1.33000 with a loss of this level targeting lower prices at 1.32206 and 1.30615. A break down from the expanding top pattern at the start of May suggests a move to 1.30000 and 1.29500.
Resistance can develop at 1.34000 and today's high at 1.34350. The price consolidated above these levels recently so there may be new levels that traders will have to discover. For now 1.34824 and 1.35500 mark areas of interest. The area around 1.36000 can be firmly resistive and may be retested again if shorts get squeezed but the chart remains bearish below this area.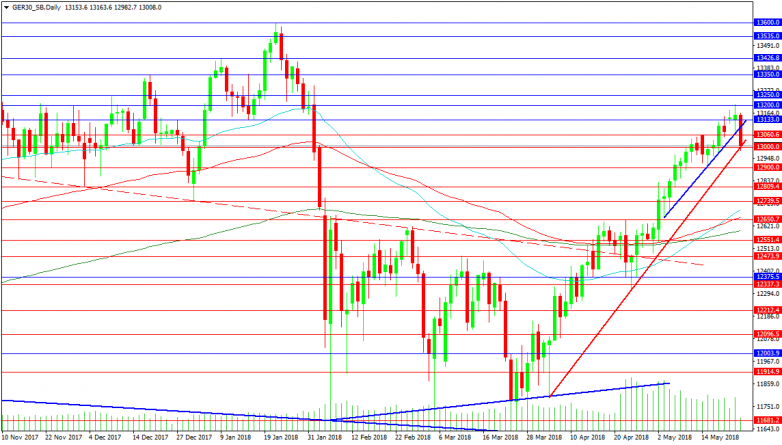 GER 30
The German Index is suffering today as markets enter full risk off mode with geo political tensions rise and European economic data remains suppressed. CPI data for Europe came in lower than expected this morning and there is concern for EU – Italian relations in light of comments from the new Italian government prompting a break from fiscal discipline. The index is testing support at 13000.00 and the trend defining support line. A fall under this area could start a deeper run lower as concerns mount as forward guidance from corporations has been weak. The moving average cluster at 12650.00 represents the top of the previous resistance area and a move to this area could see buyers emerge.
Resistance can be found at 13200.00 an area that held price down in November and December 2017. Above that area the 13350.00 level comes into play coming in as the December high. A break above here could drive prices to 13426.00 and ultimately to retest the high at 13600.00