The start of the week's trading took place around excitement in the political situation in Italy and the unsuccessful attempts of Crude Oil to rebound. The single currency's rebound lost its steam after reaching the 1.1730 area. During the European session EURUSD lost just over 1%, coming close to the 6-month lows near 1.16. The flow of strong data from the United States, signs of a slowdown in Europe and the threat of a political crisis in Italy caused the euro's to decline by 6.5% in 7 weeks.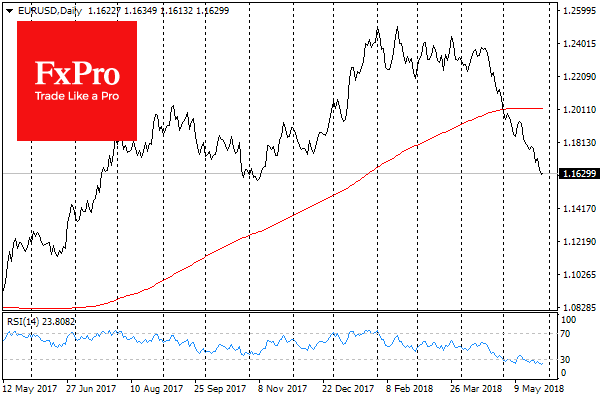 Conversely USD appears to be overbought against its peers. GBPUSD has found support near 1.33, while USDCAD has seen a decline to trade near to 1.30. USD has given up gains against JPY has stabilized against number of EM currencies. This combination is very unusual as the growth in JPY is often perceived as a safe haven. It is very likely that after a short correction the EM currencies could experience a new wave of downward pressure.
Brent had begun the week and falling to 74.60 per barrel but has recovered to around 75.60 at the start of Tuesday's trading. Is possible that the lull is due to low trading activity and today more players will add to price pressure, due to expectations of rising production in the coming months.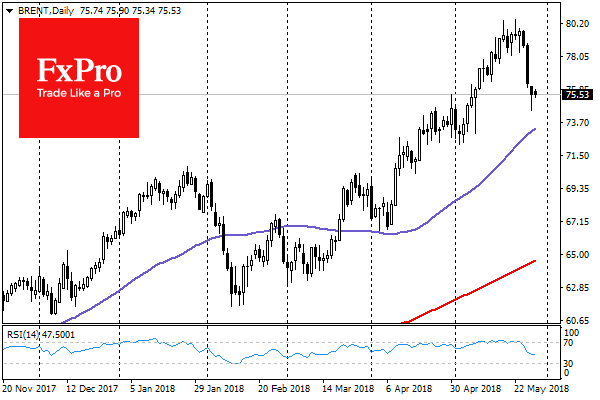 Among notable movements in the markets it is worth highlighting the rollback of the Turkish lira after the press release of the central bank on the simplification of monetary policy framework, making the weekly repo rate (now 16.5%) as its Key rate. Earlier last week the Bank of Turkey increased this rate by 3 percentage points. All these measures are positively perceived by the markets and helped TRY stabilize after falling 20% in May. The positive news for TRY has a favorable impact on the overall market attitude of developing countries. It also helps to reduce the yield of the American 10-year Treasuries, which makes the purchase of USD denominated debt less attractive.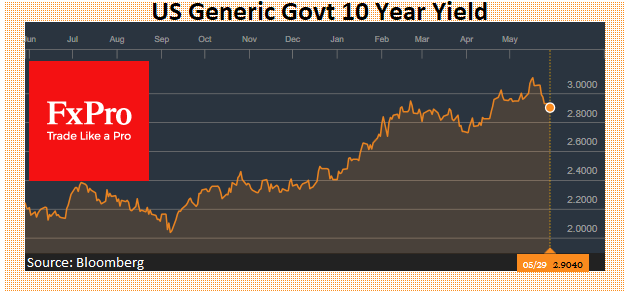 Early morning Asian markets were in cautious mode due to protests in Brazil caused by rising fuel prices. These protests make the markets wonder whether current quotes are a serious obstacle to further global growth. In these circumstances, a major energy consumer, Asia, is also experiencing a decline in stock prices. The political situation in Italy, the caution of Asian exchanges and the increased demand for safe assets are likely to keep the demand for USD during Tuesday trading.
Among significant publications today we have the release of the Consumer sentiment indicator in the U.S. This indicator is close to multiyear highs, and the expected decrease can be a sign of the peak and turning to downwards.