EURUSD
The EURUSD pair has slipped to the levels of July 2017 just ahead of 1.15000 support. The pair is having a relief rally this morning but price is still trading inside the down trend of recent weeks. Yesterday's low was 1.15096 and a loss of this supporting area would see prices extend towards 1.14579 which represents an area of support that could see buyers step in. The channel bottom comes in at 1.14280 today with 1.14000 support close-by. Bearish traders would welcome a rejection of resistance with a retracement higher working out oversold conditions.
The channel top is at the 1.16800 level today with price currently trading above 1.16000. The 50 period MA is found close to the channel top at 1.16922 presenting a barrier to any break above that area. Given the oversold conditions the ability of this area to hold price could be weak, with a short squeeze taking price above 1.17000 to the 100 period MA at 1.17868. This area would provide a junction for traders to either continue with fresh shorts or attempt to take price to higher levels. The selloff has been deepened by the Italian Political Crisis so traders will need to stay abreast of the situation there.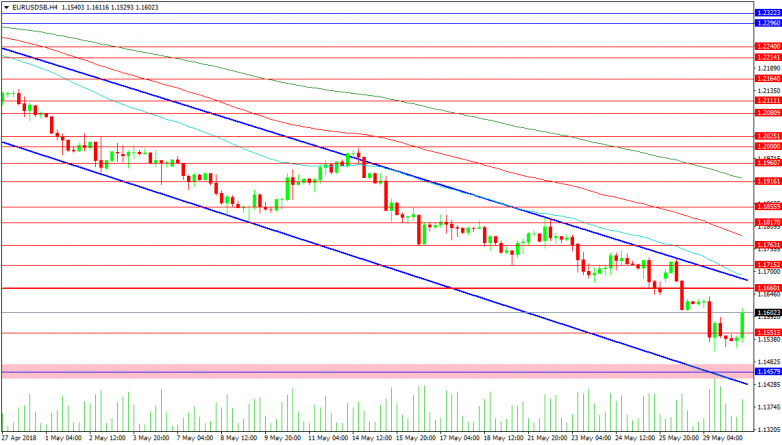 NZDUSD
The NZDUSD pair is consolidating below the broken red support trend line since the middle of May. The consolidation is centred on 0.69000 and the breakout should provide traders with an opportunity to engage with the market. A break under 0.68500 could see the supporting long term blue trend line tested at 0.68165 with a loss of this area targeting 0.67000 and 0.66430 in extension. The Double top pattern at 0.74340 played out very well and once the target area was hit at 0.69150 the momentum in the move lower has stalled leading to the sideways price action we now find price in.
A retracement higher would first need to overcome the red trend line at 0.69613 followed by the 0.70000 level. This would lead on to the falling 50 DMA at 0.70596 and the more resistive blue trend line at 0.71105. This line has the 100 DMA at 0.71166 and the 200 DMA at 0.71337 providing close support. A break out towards the recent highs faces resistance at 0.72000 and 0.74000 before the double top level is retested.