USDJPY
The USDJPY pair ran into resistance at 111.390 earlier this month on its attempt to reach 112.000. Price has been pushed down to 108.100 area support this week and has retested the previously supportive trend line as resistance yesterday at 109.052. Today's low found support at the 108.539 level so far but a loss of this point could see a move to 108.000 and beyond. The bears have the advantage here and can look for targets at 106.712 and the 2018 low at 104.573.
A break above the 109.100 level is needed to give bulls some hope of correcting the down trend. The false breakout above the red trend line this month has put them at a disadvantage but another attempt may have more success. The trend line is found at the 110.000 level today and a move higher will need to surpass the May high before 112.000 can be targeted.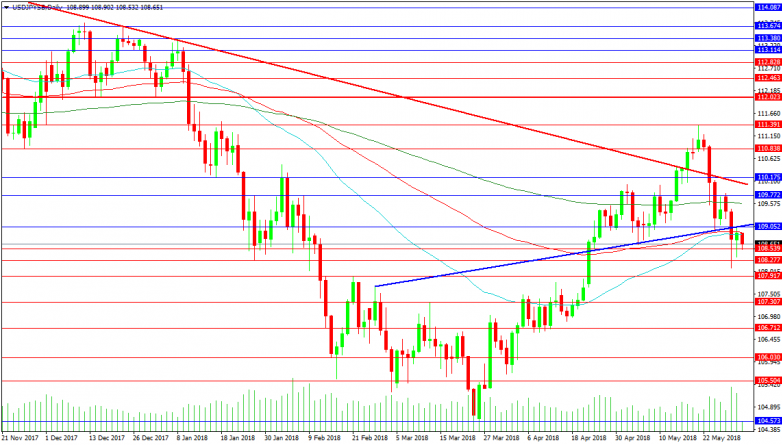 EURAUD
This pair has retraced its 2018 rally back to the January trading range after reaching a high of 1.61896 at trend line resistance. The price consolidated during February and stepped higher in April but support at 1.58153 was lost in May and price has dipped to a low of 1.53148. A loss of this low could push price lower in is down channel to 1.52750 today with targets in extension at 1.51000 and 1.50000. Resistance comes from the 200 DMA at 1.54938 and would support such a move since the area was tested on Monday.
The chart formed a Doji type candle on Tuesday and a move above the high of this candle at 1.54551 could see more long positions opened in the hope that a reverse in on the cards. A break above 1.55000 would force short positions to close and could lead to a rapid retest of 1.56000. The channel top is currently at the key resistance level of 1.56962 which is also hosting the 100 DMA today making it a level of extreme interest for traders in the coming 36 hours.