German 30
The German 30 Index has been under the cosh this week and has lagged the rally in equities as the Euro has prohibited it from making headway. The economic data has also dragged on the index and paints a less than positive picture for Europe. Finally the ECB has made comments concerning the end of Asset Purchases creating a further headwind. Price found resistance in the pocket above 129000.00 this week at the previously supportive level of 12930.00. An attempt to rally yesterday ended in failure and we are now trading 300 pips down from yesterdays high. A rally above 13000.00 is needed to restore equilibrium to the market with 13200.00 the point of control for bulls to retarget the high of 13600.00.
Support comes in at last week's low of 12540.00 with a loss of that level potentially resulting in a drop towards 12000.00. The 12473.90 level could find buyers but it is the 12375.00 level that bulls will most likely engage with as it has falling trend line support. A break under this level puts the index on a collision course with 12000.00. A fall under that level can find buyers but if 11600.00 is lost a deeper correction can in sue.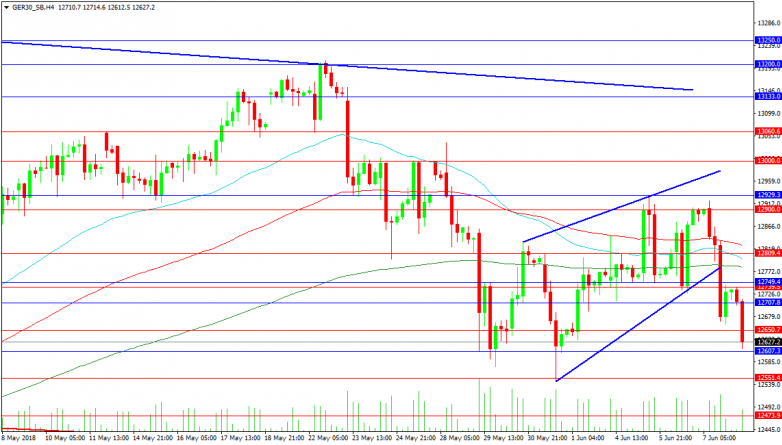 US 500
The US 500 Index has strung together a decent rally from the Non-Farm payrolls data on Friday but the looming G7 Meeting in Canada today and a sector rotation in US equities yesterday has ended the rally. Trades issues are set to dominate the meeting with President Trump scheduled to only pay a flying visit as he moves on to Singapore to for North Korean talks. The markets are duly concerned ahead of the G7 and are pairing risk. The 2800.00 level remains the first target for the Index with an advance to the high at 2877.00 to follow.
Support comes in at 2748.00 followed by the more robust area around 2740.00. A loss of this level puts price back into the previous range with light support at 2700.00 and the 2680.00 level providing bulls with a area to lean against. A loss can see sentiment swing to the bears who would target 2640.00 and the 200 DMA where buyers would attempt to engage with the market. This is likely to be the extent of any drop unless sentiment is hammered. In that event the lows around 2555.00 and 2530.00 may be revisited.