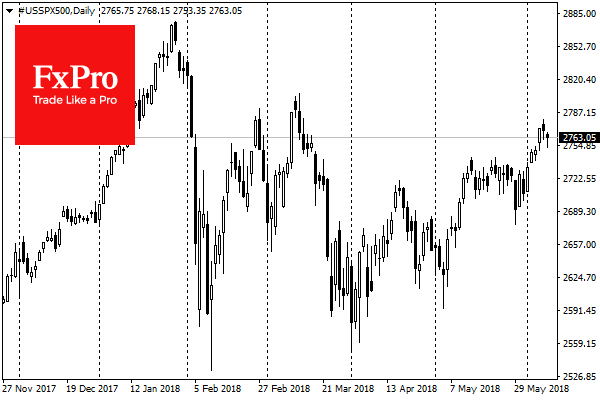 The cautious tone dominated in markets on Friday. Asia's stock markets lost about 1%, and the S&P 500 futures are now losing 0.5% to Friday's closing level. The main reason for this is the increased investors' concern caused by the Fed policy. Markets do not doubt that next week FOMC will raise the rate by 0.25 percentage point. However, strong labour market data last Friday and the confirmation by other indicators this week caused risk-off mode. The stocks ware is pressed by expectations that the Fed will increase the number of rate hikes from three to four this year.
In comparison to the backdrop of growth of yields for riskless bods, investments in stocks look less attractive, and the fee for margin positions is about to increase. In this regard, the actions are declining cautiously, and the dollar gradually returns its position lost since the beginning of the month.
Fears about a higher pace of increase rate from the Fed are always painfully perceived by emerging markets. This Friday was not an exception, denoting the most serious pressure on the EM currencies. Among the most popular currencies it is worth noting the decrease of the Turkish lira by 0.9% and new lows of the Mexican peso since February 2017.
The Russian Ruble could not pass by this trend as well, losing to the dollar 0.6% after a decrease of 1.1% the day before. However, the final trend for the dollar can determine the next week, when the decision on the rate from the Fed will be published.
In addition, on Next Thursday the ECB will announce its position, which could also either strengthen the recovery of the euro or weaken it. The comments on QE tapering are important for the euro. The hint for the completion of the program this year and readiness in raising of the rate will support the euro. If, on the contrary, we hear from ECB about tolerance to the current surge of inflation, the single currency can return to the trend of April-May, resuming its decline to the dollar.