US President Trump and North Korean Leader Kin Jong Un met in Singapore overnight. Progress was made between the two leaders during this first meeting however market reaction is muted so far. It is not yet known what progress has been made on denuclearisation, with a press conference scheduled for 06:30 GMT. USDJPY advanced higher to 110.490 overnight with support at 110.125. Markets are positioning ahead of tomorrow's FOMC and Thursday's ECB meetings when volatility should pick up.
Markets were in a risk on mode yesterday with Stock markets higher following the G7 summit. The gains were small at the beginning of a busy week for markets. The FX markets painted a different story as USDCAD rose to the 1.30000 level with Canadian PM Trudeau saying that they are preparing retaliatory measures as the relationship between the allies breaks down. The USD strengthened as the G7 passed much as expected postponing the worst fears of the market.
UK Industrial Production (YoY) (Apr) was 1.8% against an expected 2.7% from a previous 2.9%. Industrial Production (MoM) (Apr) was -0.8% against an expected 0.2% from 0.1% previously. Last month this data was flat but it disappointed expectations and missed by around 1%. Manufacturing Production (YoY) (Apr) was 1.4% against an expected 3.1% from 2.9% previously. Manufacturing Production (MoM) (Apr) was -1.4% against an expected 0.3% from -0.1% previously. This figure has missed expectations and fallen under the zero mark showing a contraction on the monthly number. The negative impact from Brexit is continuing to plague the economy as orders are delayed and production postponed. GBPUSD fell from 1.34274 to 1.33602 pairs can move because of this data release.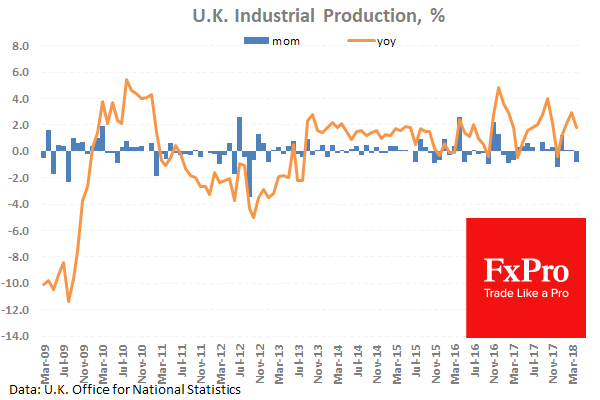 EURUSD is down -0.11% overnight, trading around 1.17689.
USDJPY is up 0.24% in the early session, trading at around 110.302
GBPUSD is down -0.07% this morning trading around 1.33639
Gold is down -0.21% in early morning trading at around $1,297.70
WTI is up 0.15% this morning, trading around $66.16.