"Bloody Sunday" cost the crypto market $50 billion of market cap. In one day its market capitalization plummeted from $ 340 billion to $ 290 billion at its lowest point. As of Tuesday, June 12, the total market cap has returned to $300 billion. Bitcoin (BTC) has grown by 1% in the last 24 hours and is trading now at around $6,900. Technical analysis had forecast that the break of the support level at $7,080 would lead to a deep and intensive decline, but it did not happen.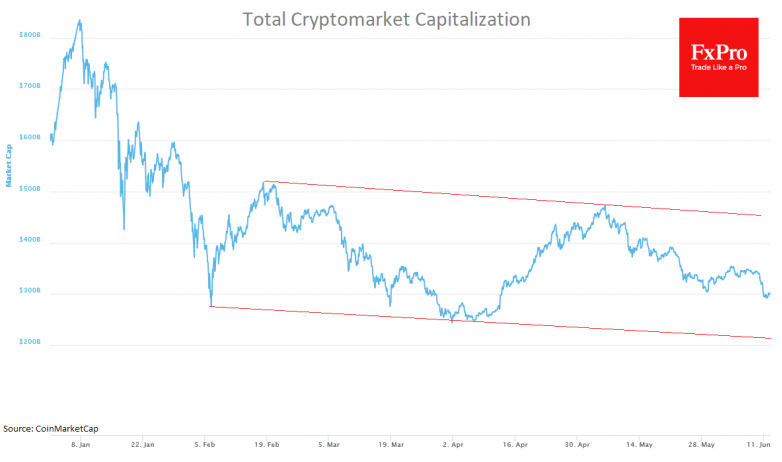 The current downward move was surprising because of a reason that was somewhat insignificant: according to CoinMarketCap ranking, the South Korean exchange Coinrail, was robbed of $37 mln, ranks at an "honorable" 90th ranking with daily trading volume of approximately $2 million.
Most likely fears were caused on the news that a "mysterious Asian bitcoin whale" (who owns sixth-largest wallet in the Bitcoin network of 94,000 BTC) had reduced their balance by 8,000 BTC. The news of this large Bitcoin's sale has caused a full-blown panic.
Since the beginning of the year Bitcoin has been trading in a descending triangle with important support near $6,500. Bitcoin has received support around this level over the last couple of days. However the testing of lower levels cannot be excluded. The move below this mark will become a strong technical signal for a sell-off. However, until Bitcoin trades above this level a rebound to $ 8000-9000 is more likely.
It is worth noting that bitcoin is largely influenced by Bitmain, the main manufacturer of mining equipment. On the other hand, famous crypto speakers actively use a "stick-and-carrot" approach, causing swings from optimism to panic. It seems that the dreams of decentralization have ended up with a monopoly of computing power on the one hand, and a monopoly of cash flows on the other.