The GBP weakened again because of the disappointing industrial production statistics. In May, instead of growing by 0,5% the index suddenly lost 0,4% after the sharp fall by 1.0% in April. The GBPUSD pair decreased to the minimums area at around 1.3230 shortly after the British data had been published. As the positive impact of two-year-old GBP fall is reduced, some uncertainty about Brexit becomes more and more evident in economic indicators. The series of resignations in May's Government adds to this uncertainty too. However, the appointments of soft-Brexit supporters are capable to help the GBP in the mid-term perspective, if it manages to recover from the weak data.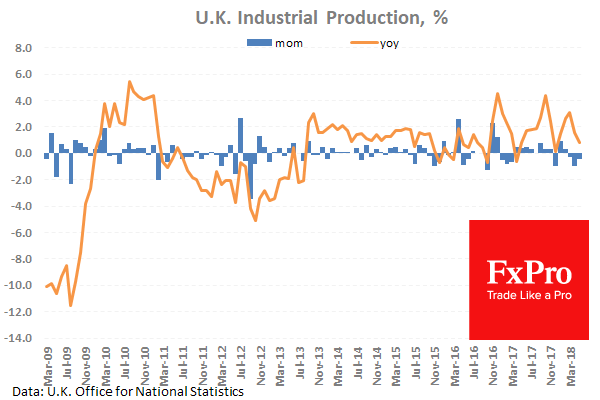 The euro faced a sell-off as well as the assessment of business sentiment was published by ZEW. The indicator for Germany decreased from -16.1 to -24.7 (the lowest rate since August 2012). For the Eurozone in general, this indicator declined from -12.6 to -18.7. According to the report, the fears about trade wars and the indicators decrease within the Eurozone contributed to the deterioration of the situation. The EURUSD pair lost more than 60 points from intraday highs so far and trades at around 1.17, exceeding the growth after Payrolls.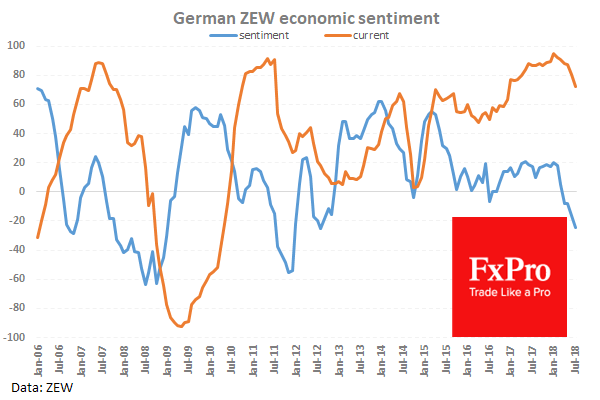 The weakening of the euro helps the European indexes to demonstrate positive dynamics, however, the developing markets have been placed under pressure in the afternoon.