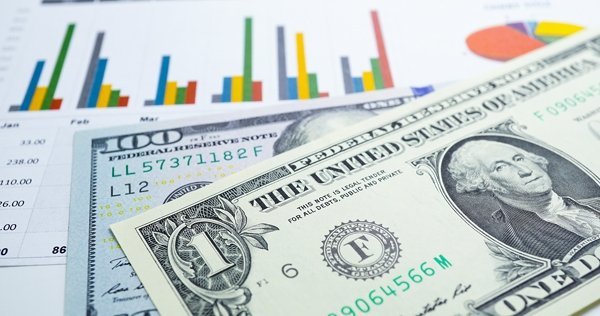 The dollar index reached the one-year highs on Wednesday due to the demand for safe assets. USDX reached level 95.43 on Thursday, breaking the peak levels from November and May-June. However, Trump's comments have caused pressure on the American currency, throwing the dollar from the recently achieved highs.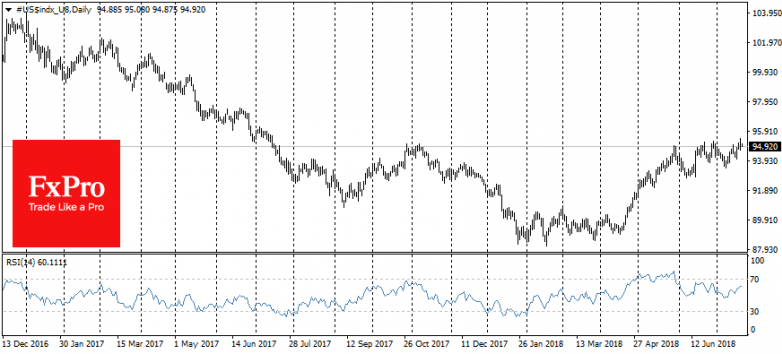 U.S. president in an interview CNBC noted that the yuan "was dropping like a rock", and the rising dollar and higher interest rates raise concerns about the potential impact on the economy. The strengthening of the currency makes the production of local companies comparatively expensive, which is able to slow growth.
At the same time, the weakening of the dollar has not yet unfolded the demand for protective assets, including bonds, and the decline in shares. On Thursday and Friday morning fears about the escalation of trade wars between USA and China caused a new easing of yuan, as well as pressure on the stock markets.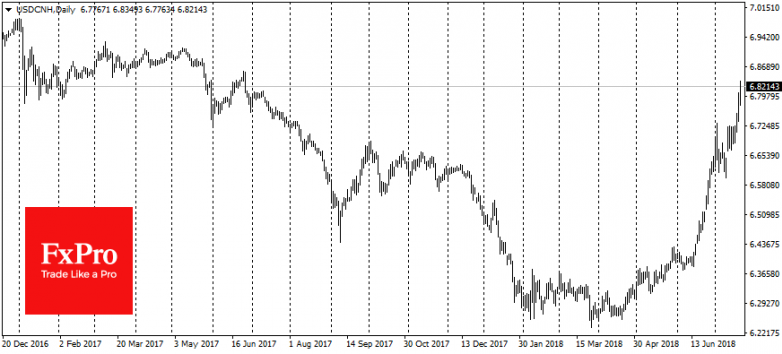 On Friday morning the yuan sank to new lows compared to the last 13 months. Since the beginning of the month CNY lost 3%, and for three months of active sales it sagged 9%. Chinese largest companies also remain under pressure on Friday morning, despite the weakness of the national currency, which often supports stocks.
The EURUSD pair fell on Thursday to 1.1575 but rose to 1.1676 due to market reaction to the Trump's comments. At the moment the pair stabilized around 1.1650. For the year from January 2017 to January 2018 EURUSD added more than 20%, on accelerating eurozone growth and low inflation in the US, but half of this increase was erased in the first half of this year, when fears around trade wars and a more stringent tone of the Fed caused an increase in demand for the U.S. currency.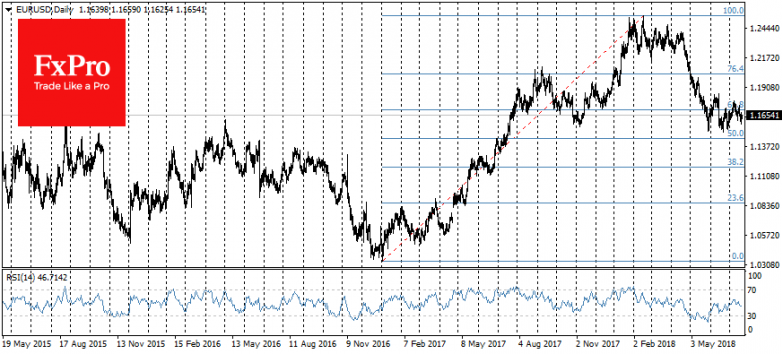 It is not necessary to overestimate the influence of comments of the U.S. President. Previously, it was limited and short-lived. He has repeatedly expressed such a point of view, but it did not prevent the Fed to tighten the policy and it even increased its pace. It should also be remembered that similar comments in Davos at the beginning of the year caused an immediate reaction to the weakening but had no long-term consequences. The American dollar soon after the similar comments of Trump and Mnuchin stopped a month-long fall and soon turned to growth.