All of this about the medium-term perspective, while during the last day Bitcoin lost 3% and trades around $9,700. Once again, the MA50 is being tested, passing through 9630. Bitcoin is finding it harder and harder to stay above $10K. Everything is happening within the framework of tech analysis and logic (adjusted for the special nature of the cryptocurrencies), and there was no complete duplication of the 2017 rally.
The altcoin market follows the first cryptocurrency. TOP-10 altcoins lose within 3% during the last 24 hours. In a broader perspective, some altcoins are in a very tight situation. For example, ZCash (ZEC) is now only $25 (or 50%) above this year's lows (or 92% below highs in early 2018). Other stars of the rally 2017th, while feeling better, are also experiencing an investor's confidence crisis.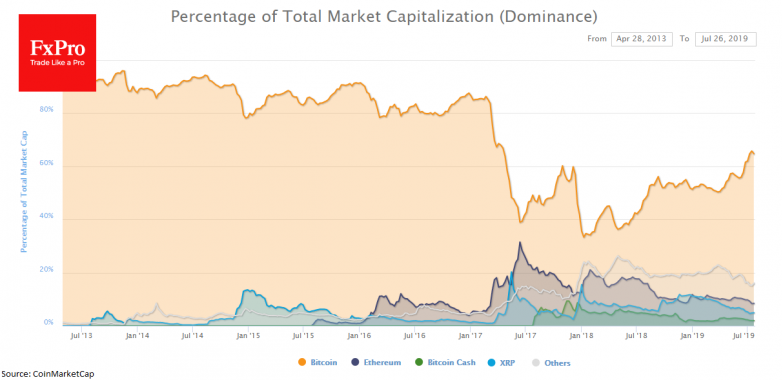 Perhaps it would not be an exaggeration to say that the cryptocurrency market is at the phase of funds consolidating, as is often the case in difficult times. The undisputed beneficiary is Bitcoin, whose market share has almost doubled since February. While the top 10 altcoins struggle to duplicate the dynamics of the BTCUSD, 2nd and 3d tens look more and more on the sideway of the investor's focus. This is easily explained by the fact that the market of cryptocurrencies is considered as an investment, where leaders receive the main attention and, as a consequence, investors' money. This also explains the scrupulousness of Bitcoin in following the tech analysis signals and ignoring the news.
Hopes of Facebook's attempts to launch its cryptocurrency support the optimism of market participants. Even if the final product is worse than the initial high-profile plans, the momentum for the entire sector should not be underestimated. In addition, Telegram should launch its blockchain by the end of the year. It is possible that the launch of these products will return the interest of serious players who will monitor the potential of the projects, not just the signals of tech analysis.
The FxPro Analyst Team
Source: FxPro