The Bitcoin greed and fear index has been in the "neutral" zone for a long time, which may indicate investors' preference for a "wait-and-see" approach at the moment. From the technical point of view, on the daily chart Bitcoin forms a second red candle after closing the day below the 200-day average, which may indicate the potential for a further decline in the coming days. The apparent trend in the market is the algorithmic trading and institutions that focus on technical indicators, adjusting their bots accordingly.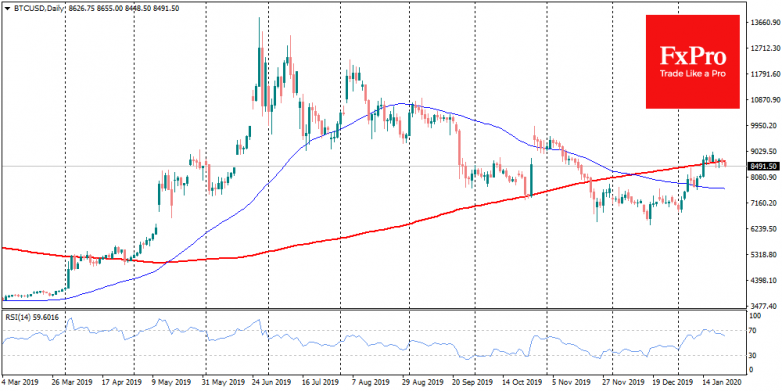 At the same time, it is worth distinguishing between the reaction of the market when it moves in autopilot mode and the response of investors to big shocks. Bitcoin is one of the assets on which investors are trying to get a return "above the market" by riding a growth wave or leading a decline at the moment of local drops.
However, it is worth remembering that the idea of Bitcoin appeared during the global financial crisis. And this idea may well turn out to be attractive to investors again, in case of a prolonged correction in stocks.
Globally, the media are increasingly expressing serious concerns that the stock market, reserve currencies, debt market and other invariable attributes of the traditional financial market have become hostages of populist politicians. More and more often, there are reports that stock market valuations inflated, and the debt burden is off the charts. But while stocks are growing, nobody wants to look at this uncomfortable truth.
Such concerns contribute to the portfolio's diversification towards cryptocurrency. These shifts may be behind a recent upward trend.
At the same time, it is challenging to call cryptocurrencies the solution to all problems. Most likely, the main safe-heavens are far away from the crypto, but at the background of rising concerns around a new global crisis, this asset class should also attract investors' attention.
The FxPro Analyst Team