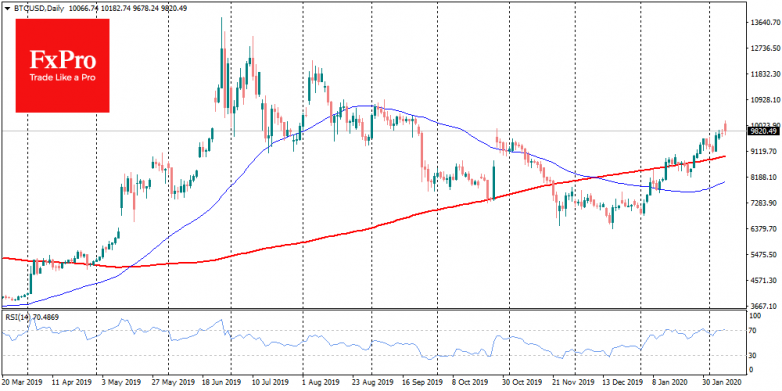 In the last 24 hours, Bitcoin lost almost 3% and changed hands below $9,800. The Crypto Fear & Greed Index still stay in "greed" mode for a week, and now at around 57. The lack of growth of this indicator is a signal that the market not overheated yet.
Simultaneously with the fluctuations of Bitcoin's price, its dominance is in decline. At the beginning of the week, it fell to 63.7%. Dominance decline is a positive sign for the market as a whole, as it means that investors are buying altcoins more actively, believing in the prospects of this market. Even taking into account the beginning of the correction, the total capitalization of the crypto market over the week shows a growth of $20bn. The situation may change for the worse during the day, but so far, the market is not in panic mode.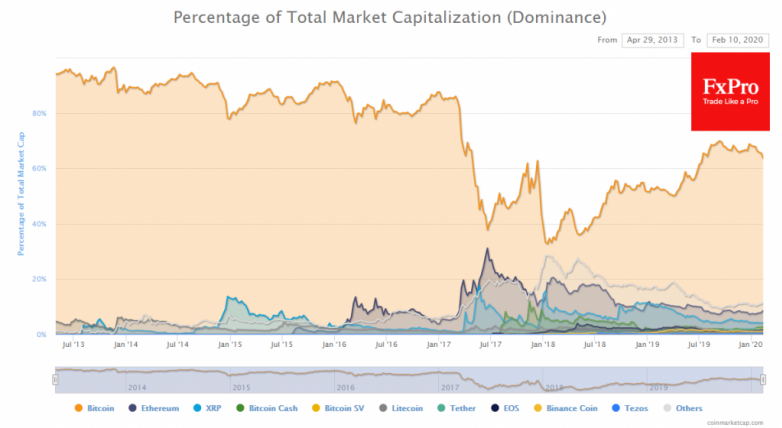 The week was very successful for the altcoins, but now they have entered the correction phase following the benchmark cryptocurrency. Some coins such as Binance Coin ( 34% for seven days) or Tezos ( 33% for the week) are still showing growth in the last 24 hours, but the situation may reverse very soon.
As is often the case, the crypto media have been trying to follow the trend, suggesting further strengthening during last week's rise in prices. Precisely in such periods, the market starts to play against the expectations of the majority, which we saw this time. The beginning of the market correction coincided with institutional investors joining the trades after the weekend, which may indicate a less bright outlook for the coming days.
The FxPro Analyst Team