It was entirely unexpected to see that trading volumes (according to Coinmarketcap) remained relatively stable at a sharp decline. It should be noted that the current average of about $45 bln a day hardly corresponds to the price range of $9,500-10,500, in which Bitcoin has been clamped for some time. On the other hand, if we take the data from Cryptocompare, BTC's trading volume is only $4.4bn, which is more likely to be true. Remember Bitcoin' dynamics in December 2017, when we saw the first historical jump in trading volumes up to $20bn (again, according to CMC) with price near $20K.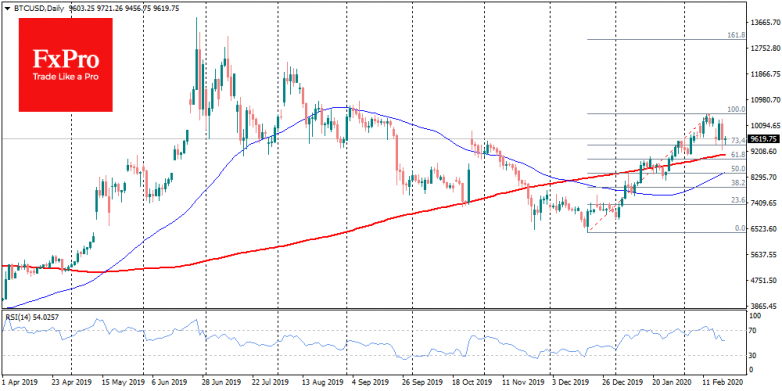 Thus, we have several consecutive unsuccessful attempts to gain a foothold above $10K. We could say that the rule "what does not grow, then falls" will work now. The Crypto Fear & Greed Index shows a 19-point drop over the week, moving from "greed" to "fear", which is consistent with what is happening in the crypto market.
We have several assumptions around the Bitcoin dynamics this year, from geopolitics and China's epidemic to Fed statements, all of which may have had an impact. Still, there have always been disproofs on a case-by-case basis.
Recently, the crypto community noted the formation of a rare pattern of "gold cross" for Bitcoin on the daily chart. But these reports were about exponential averages, not classical lines. The traditional simple 50-day moving average is now at $8,500, while the 200-day moving average is above $9,000.
Among the reasons for the pressure on the crypto market, we can highlight the tightening of the rhetoric from the American authorities. The speech of the Fed's Governor, statements of the Treasury Secretary Mnuchin, extremely negative attitude of President Trump to Bitcoin — all this demonstrates сlose attention to the sector.
On the one hand, it is contrary to the appearance of new instruments for investing in Bitcoin. On the other hand, it leads to the idea that new permits for launching derivatives are issued precisely to deter Bitcoin. New financial instruments allow not only to play "long" but also to "short" Bitcoin, and through it the rest of the crypto market. As a result, this stops the price growth over and over again, containing the excitement among non-professional investors.
Bitcoin has been able to surprise over the past ten years, which has made it a genuinely recognizable asset, but now (when you can also buy futures and options on it) there are limited opportunities for growth. So investors should be cautious about any extraordinarily positive or adverse market expectations, more often looking back at the actual actions of the U.S. authorities.
The FxPro Analyst Team