Military conflicts and trade wars have faded away amid the news of a global pandemic threat. China is the mining capital of Bitcoin, and the experience of Venezuela, Argentina, etc. have shown that interest in Bitcoin is growing amidst the turbulence of the local currency, becoming a means of the store of value.
So far, the yuan is relatively stable and there is no explosion of interest in Bitcoin either.
All-time highs in the stocks ominously indicate the prospects for a rapid market collapse. The basic idea of crypto enthusiasts is that a drop of shares from the peaks will feed the cryptocurrency.
But, if we compare the dynamics of the S&P 500 and BTC this year and on long-time intervals, we can see that they are preferably coincident. The markets are either dominated by the traction in risky assets, or by deleveraging, feeding or, conversely, pulling life out of stocks, commodities and crypto at the same time.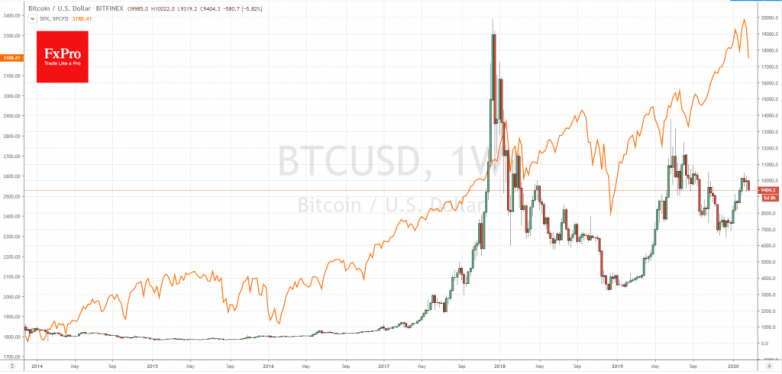 A comparison of gold with Bitcoin is more a dream than a reality. In February, gold is rising dramatically, which is not the case with Bitcoin. It can hardly be considered a "safe-haven". This status requires liquidity and trust of really-big-money.
Derivatives at various points of time were both the hope of the crypto market and its curse. Everyone likes the inflow of liquidity to the market. Still, it is no less evident that institutional investors are opening positions not only for growth but also for a decline.
It turns out that none of these factors has the potential to have an unambiguously positive impact. If the stock market collapses tomorrow, there is no guarantee that Bitcoin will grow or decline with it. The same can be said about gold, coronavirus, futures or inclusion of Bitcoin in payment terminals of Starbucks coffee chain.
The FxPro Analyst Team