Stock market volatility is growing again in the morning amid corrective rollback of indices. A day earlier, the S & P500 jumped 4.2%, and before the start of trading in the US, futures indicated a 2.4% drop. EuroStoxx50 loses more than 2%, FTSE100 is down 1.9% since the beginning of the day.
The dollar is declining, having a direct correlation with stocks. This rare correlation is associated with growing expectations of further Fed 50 bp rate cuts on March 18.
Safe-heavens are again in the lead to growth to USD.
Gold adds nearly 1% to $1,655.
Brent dropped to $50.9 amid disappointment among market participants by Russia's reluctance to support aggressive measures to reduce production.
Bank of England and Canada governors will speak later in the evening, and US NFP report publishing on Friday may lead to a new jump in volatility.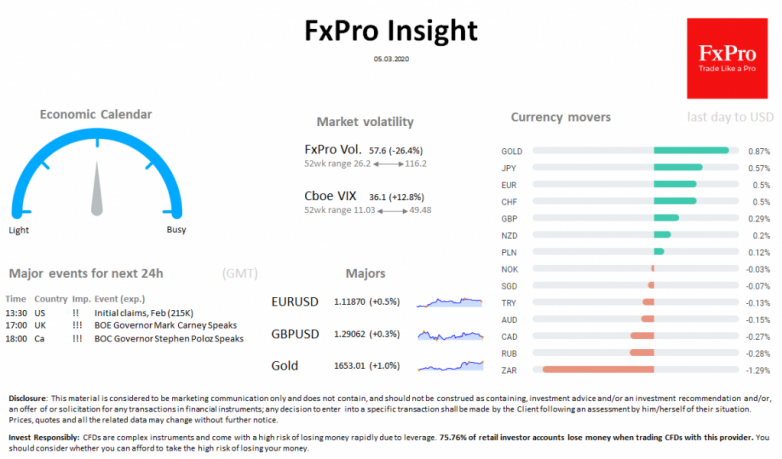 Important events, GMT (Exp.):
17:00 UK !!! BOE Governor Mark Carney Speaks
18:00 Ca !!! BOC Governor Stephen Poloz Speaks
13:30 US !!! Non-farm payrolls (185K)