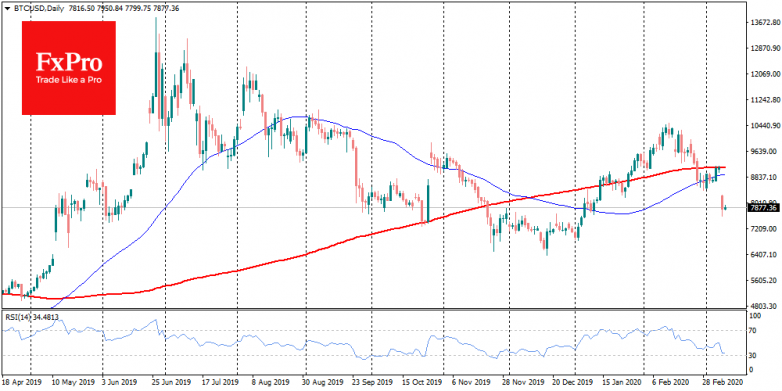 The altcoin market took the same sharp blow as Bitcoin, demonstrating a complete lack of autonomy. Since Saturday night, the total capitalization of the cryptocurrencies dropped by $36bn, or almost 14%. A "bloodbath" is reigning in the global market, and the cryptocurrencies too. Nevertheless, one can hardly say that the coronavirus is to blame. Instead, quarantine has become a trigger for long, overdue processes. Stocks were growing in the background of incentives; production restrictions supported oil – the fragile balance was generally maintained exclusively by artificial impulses. In this case, the coronavirus was a trigger that exacerbated all global diseases.
The Crypto Fear & Greed Index fell by more than 16 points in a day and is now in the "extreme fear" area at 17 points. The RSI index for the BTCUSD pair on the daily chart is close to the oversold territory. Institutional investors often rely on technical indicators in the tuning of trading bots, so when the wildest sell-off is over, digital currencies will spend some time in a phase of consolidation period in anticipation of new triggers from the traditional market.
The basis for optimism is now quite fragile due to some negative factors. The last extremely negative trigger is considered to be a collapse in the oil market. OPEC failed to reach an agreement, and this sent the price of the barrel sharply down. Crude oil and cryptocurrencies are hardly directly pegged. However, the general negative market environment indicates investors' desire to close positions in risky assets. Nevertheless, taking into account the volatile nature of the cryptocurrencies, it is possible to assume that the second negative factor – global quarantine – may play into the hands of digital currencies in the medium term.
In the meantime, the focus will be on stocks, and as soon as "green shoots" start to appear in this environment, it may spread to cryptocurrencies rather quickly. Gradually, the discussion around halving and its implications for Bitcoin wiped out by more tactical and short-term problems for the market.
The FxPro Analyst Team