The dollar index is adding 0.2% to Friday's close, but individual currencies are showing dramatic changes to the dollar. Our volatility gauge updates its highs. JPY grew about 1%, GBP fell to 1.2210 – lows since October and historically low levels. Tied to raw materials prices ZAR, NOK collapsed by more than 3% today. Losses of AUD, TRY are close to 2%.
The range of gold fluctuations on Monday exceeded $120, as a flick up to $1575 followed by collapse in the area of $ 1450.
Brent crude prices on the spot market fell earlier today to $30.7 (-13.7% by Friday close). At the time of writing, quotes are growing for the third hour, adding about $1. Steadily below these levels, Brent traded for the last time in 2004.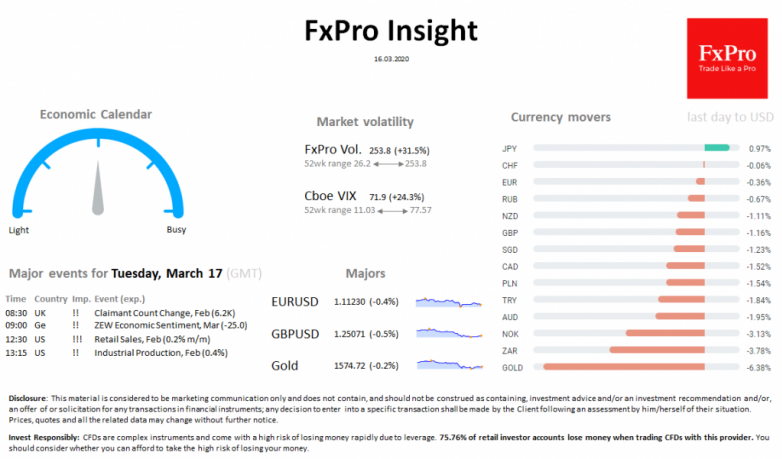 Important events, GMT (Exp.):
08:30 UK !! Claimant Count Change, Feb (6.2K)
09:00 Ge !! ZEW Economic Sentiment, Mar (-25.0)
12:30 US !!! Retail Sales, Feb (0.2% m/m)
13:15 US !! Industrial Production, Feb (0.4%)