On the news from the US, American indices rush from growth to decline. Last minutes, SPX returned to negative territory amid a slipping stimulus package in the US Congress. SPX -1.6%, to lows since the end of 2016. The FTSE100 lost 3.5%, the EuroStoxx50 down 2.0%.
The Fed lifted QE restrictions on government bonds and mortgage-backed agencies, launched a $ 300 billion corporate bond repurchase program. DXY has been peaking for the second day from highs since 2017. EURUSD is trying to catch on levels above 1.08. USDNOK has been losing 5% since the beginning of the day, but has not yet managed to block Friday's losses.
News of the Fed's new incentives supported Gold, which rose to $ 1,530.
Brent drifted towards 17-year lows near $27.8. The pressure was reinforced by news that Texas companies refused to participate in OPEC-agreed production cuts.
The global tipping point with the spread of coronavirus has not yet arrived. Despite signs of a slowdown in selected European countries, distribution is increasing in the US.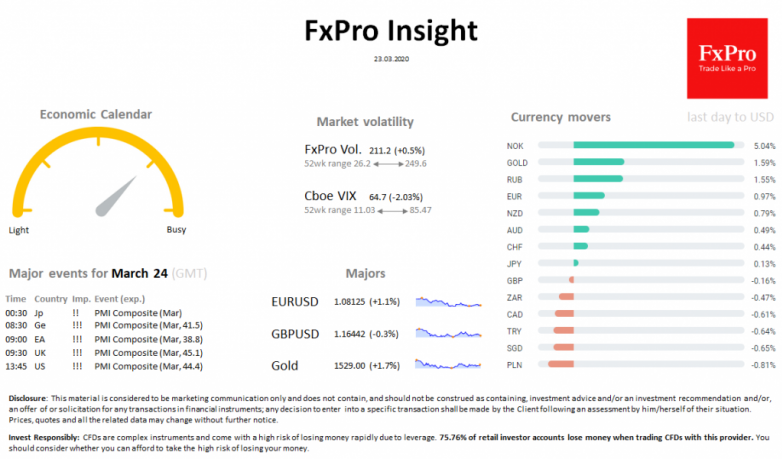 Important events, GMT (Exp.):
00:30 Jp !! PMI Composite (Mar)
08:30 Ge !!! PMI Composite (Mar, 41.5)
09:00 EA !!! PMI Composite (Mar, 38.8)
09:30 UK !!! PMI Composite (Mar, 45.1)
13:45 US !!! PMI Composite (Mar, 44.4)