The crypto market opens the working week with a moderate positive. Bitcoin is growing by almost 2% and trades at around $7,700. Bitcoin has risen 7% over the past week. Trade volume in the Bitcoin network has increased by 17% over the last day. The Crypto Fear & Greed Index rebounded by 7 points during the day, switching from "extreme fear" to "fear" mode. This is quite a significant result, as the index has been extremely depressed since mid-March. The altcoins from the top ten show mixed dynamics waiting for new triggers.
From the technical analysis, the bulls got the upper hand as BTCUSD closed above the 50-day average on the daily charts last week. In February 2019, the same signal flagged the start of the 4-month rally, that quadrupled the Bitcoin's price.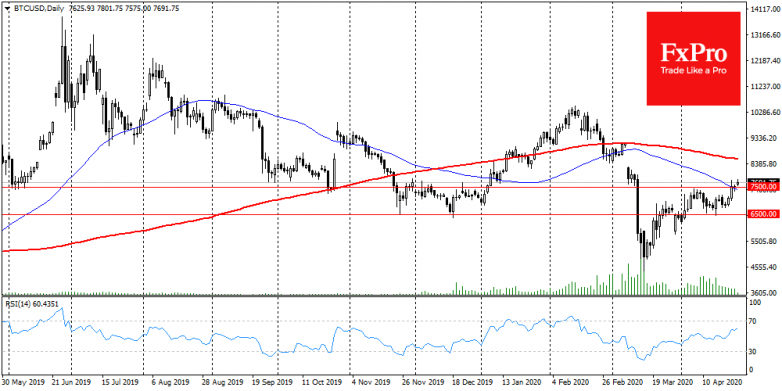 The leading altcoin Ethereum (ETH) rose over the week by more than 7%, approaching the $200 threshold. The technical picture for ETH is even more optimistic. Last week the Ethereum gained ground above the 50 and 200-day averages. Although this is not even close to the 2017 levels, the coin has returned to its growth track. And this cryptocurrency has every reason to do so, as the project is beneficial for the digital sector. Tezos (XTZ), Cardano (ADA), and Stellar (XLM) also show significant growth over the week with 16%, 25%, and 20% respectively.
There are only a few weeks left before halving, but so far, the main result of such an essential event for Bitcoin approach, is that investors are holding on to their positions. The rapid attack of $8000 could be a breath of fresh air for the first cryptocurrency and can open new horizons. However, we are witnessing only super cautious optimism among market participants. Everyone understands that central banks are desperately trying to support the economy, and they are doing so at the expense of the future.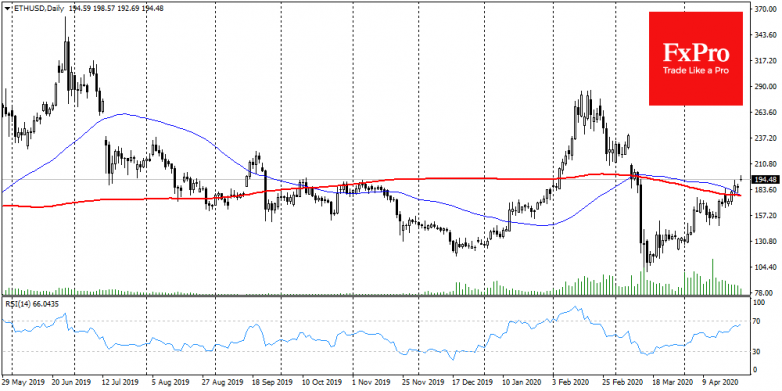 Nevertheless, Pandora's Box is open, and the unpleasant truth is that central banks and governments are only trying to put out the fire. The quarantine cannot last forever, sooner or later, everyone will have to work in the new high-risk environment before another outbreak of the disease. The question is: how many waves of the epidemic will the global economy withstand?
Cryptocurrencies will likely be just as vulnerable to global threats as other assets of any kind. However, the difference may lie in the future. After all, some assets may lose their buyers forever, while others will build a new structure on the ruins. In the new economy, there will be a much larger space for purely digital projects. Of course, no one needs most of the existing cryptocurrencies. Still, given the global trend towards self-isolation and the tighter digital control, many of the current leaders in the crypto market will take their place even (and especially) after the emergence of national cryptocurrencies.
The FxPro Analyst Team