This weekend was a nasty one for the crypto market. Over the weekend, Bitcoin collapsed by $1,300, even though there are about 10 hours left before the halving. The decline we saw may continue soon. $10K became an irresistible level for the first cryptocurrency and investors started to take profits, pulling down the entire crypto market.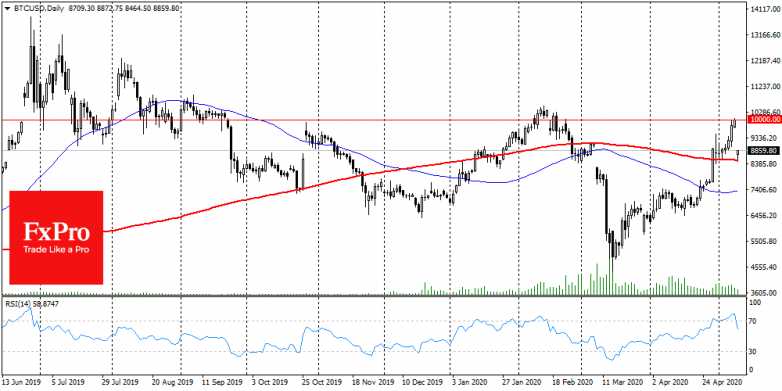 The Bitcoin Crypto Fear & Greed Index sank by 8 points in a day, once again turning back to the "fear" area, accurately reflecting the sentiment and the market situation. The benchmark cryptocurrency has sharply returned to the 200-day average, from where it had been gaining strength since late April. The RSI for BTCUSD also moved abruptly down from the overbought area, becoming confirmation of the decline on the technical side.
However, for the week, Bitcoin is losing about a per cent. Altcoins have plunged much deeper. If crypto prices stabilize in the next few days after halving, the market will be able to return to, at least, the sideways trend.
Crypto market participants have not been too optimistic in recent days. Experts unanimously admit that the Bitcoin environment has wholly changed if compared to the previous two halvings, and this cannot be ignored in the forecasts. A lot of new instruments have appeared on the market, the diversity of participants has increased, regulators' attention has increased, the influence of miners has decreased and the halo of unknown breakthrough technology has disappeared. The last point was especially important at the time of FOMO in 2017. One thing remains unchanged: Bitcoin is still the most popular payment instrument in Darknet. As ironic as it may sound, this sphere of internet users still uses the benchmark cryptocurrency as a payment instrument. They don't invest in it, don't "hodl", but use it immediately to exchange it for needed goods, so price fluctuations are not particularly frightening to such users. Such a scheme, but in the legal field, could be an impulse of a fundamentally new force for the first cryptocurrency, but it does not promise a price increase.
The FxPro Analyst Team