On the approaches to $10K, Bitcoin reencountered resistance, which pushed it back to $9,600. In 24 hours the coin loses more than 2% and also shows a decline in trading volumes by 11%. All altcoins have followed the first cryptocurrency and are demonstrating a similar loss. The Crypto Fear & Greed Index shows a constant value at "50", which corresponds to the "neutral" state of the market. The RSI also in neutral territory. It is possible that in the short term Bitcoin may start to form a sideways trend.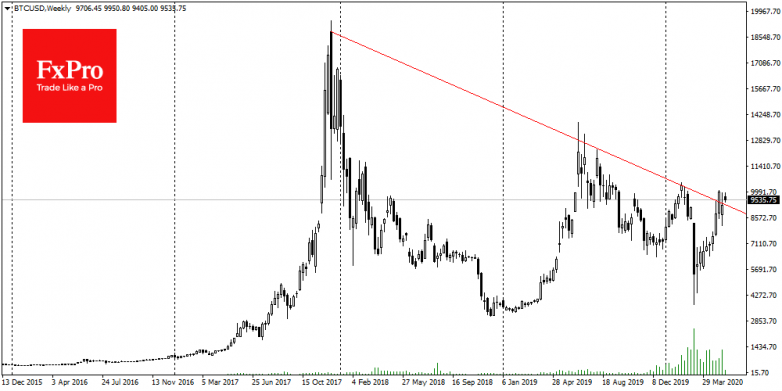 Bitcoin above long-term downward resistance, but reluctant to grow
Failure to exceed $10K may prove costly for the first cryptocurrency and the entire altcoin market. In case the general negative sentiment increases and the price falls, the pressure on the miners and the hash rate will increase too, as after halving the miners are working on the verge of yield. It seems that at this stage, when the difficulty is close to the historical maximum, the miners need a price significantly higher than $10K. Will they be able to influence the price of the bitcoin in the new environment, when the market is saturated with new major players? – It is quite possible that this process has already begun, judging by the withdrawal of bitcoins from exchanges to cold wallets.
The FxPro Analyst Team