On Wednesday, 27th of April the Australian dollar tumbled more than 1.7% after releasing surprisingly soft local inflation data.
Consumer prices in Australia unexpectedly dropped by 0.2 percent quarter-on-quarter, undershooting median forecast of a 0.3 percent rise.
As Reuters notes, "It was the first time since 2009 the inflation gauge fell to a negative level, raising speculation that the Reserve Bank of Australia may have to consider rate cuts."
"The underlying rate of inflation has slowed considerably and Australia's CPI rates are finally starting to look more like its developed market peers. This won't sway the RBA to lower the cash rate next Tuesday, but it will keep their easing bias in play for a while," said Jasmin Argyrou, Aberdeen Asset Management senior investment manager in Sydney.
"The RBA has been nervous about a strength in the Australian dollar. So a rate cut would be a natural option. The Aussie's rally could reverse its course," said Yukio Ishizuki, forex strategist at Daiwa Securities.
Currently, the AUD/USD pair trades near to the level of 0.7617.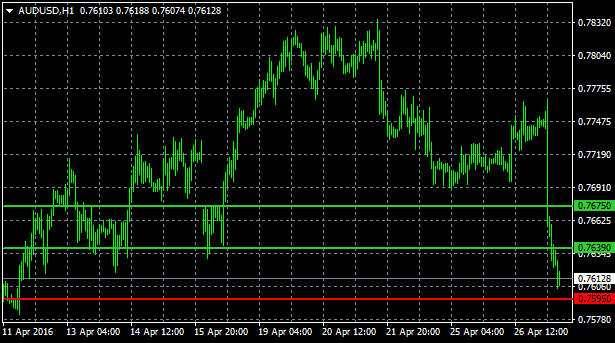 The resistance levels for the Australian dollar are 0.7639 and 0.7675.
The support levels for the AUD/USD pair are 0.7595 and 0.7568
The information provided is for educational purposes only and should not be considered as investment advice.