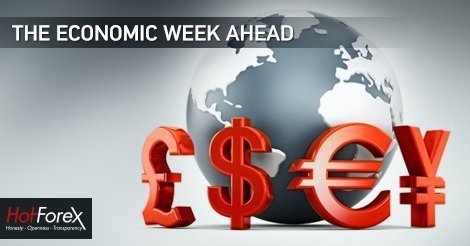 Main Macro Events This Week
United States: The headline job numbers were clearly disappointing, but many of the details, including the workweek and earnings were better than expected. The economic calendar is comparatively lean this week. Updates resume with the wholesale trade report (Tuesday) where sales are projected to climb 0.5% (median 0.3%) and inventories are seen flat in March. Yellen's favored JOLTS job openings report is also due for some hindsight on payrolls. The MBA and EIA reports (Wednesday) will be followed later by the Treasury budget gap, forecast to widen to $75.0 bln in April (median $112.5 bln) vs -$108 bln in March. Import prices are expected to rise 0.7% in April (median 0.6%) vs 0.2% (Thursday), while export prices rise 0.1% (median unchanged), and initial jobless claims are seen dipping 7k to 267k for the week ended May 7. Retail sales will anchor the week (Friday) and are forecast to rise 0.6% (median 0.8%) vs -0.3% in April, or 0.4% ex-auto, to potentially snap their 2016 losing streak. This will be followed by April PPI, forecast to rise 0.4% (median 0.3%) vs -0.1%; core rising only 0.1% (median 0.1%). Michigan sentiment is seen rising to 90.0 in May vs 89.0 and business inventories may rise 0.3% in March (median 0.2%) vs -0.1%.
Canada: The April housing starts report is the headliner (Monday), and growth in starts is expected to slow to a 195.0k unit rate from the 204.3k clip in March. The new home price index (Thursday) is projected to grow 0.2% m/m in March after the identical 0.2% rise in February. The Teranet/National Bank home price index for April will be released Thursday. BoC Senior Deputy Governor Wilkins will participate in a panel discussion (Wednesday) on the topic of "Paradigm Shift: The Changing Global Bond Market and Implications for Investors."
Europe:  The ECB remains entrenched in wait and see mode, while the debate about the ECB's expansionary policy continues in Germany and Greek bailout review talks drag on and once again raise Grexit fears amid concerns about the stability of the Eurozone. Eurozone finance ministers and ECB officials are meeting on Monday to discuss the state of play. German production and trade reports for March will round off the first quarter data releases, ahead of the preliminary GDP number on Friday.  Tuesday sees production data which is expected to be  of -3% m/m, which is in line with consensus and would tie in with the weak orders number from February. The German HICP rate is expected to be confirmed at just -0.3% y/y (corrected from an erroneously released -0.1% reported initially) and French HICP at -0.1% y/y, which would leave the overall Eurozone number at -0.1% y/y. The official take is that headline rates will start to move higher again later in the year and for now the ECB remains firmly on hold.
UK: The BoE's Monetary Policy Committee will conduct its May meeting (Tuesday), where a no-change stance by unanimous vote is all but certain. Last week saw the April UK composite PMI undershoot expectations and fall to three-year lows, with Markit, the survey compiler, confirming that the risk of leaving the EU is affecting business and investment planning. There is a circulating argument in markets that the UK economy will rebound sharply in the event of a vote to remain in the EU at the Jun-23 referendum, but the latest FT poll tracker suggests the issue remains a close call, with 46% favouring Remain and 43% favouring Leave, which compares to respective figures of 47% and 41% that were seen at the start of last week. This, along with the sizable chunk of undecided voters, maintains the Brexit vote as a high-stakes risk event for the UK and sterling, and for the euro itself. UK calendar commences with the Halifax house price report for April (Monday), which is expected to show some cooling. The April BRC retail sales survey follows (Tuesday), where there is downside risk, ahead of March trade data (also Tuesday), expected to show a deficit of GPB 11.2 bln.  March production data (Wednesday) is expected to show an on-the-month rebound following weakness in February. We expect a 0.3% rise in industrial output (median 0.4%) versus the -0.4% February reading. The y/y figure is expected at -0.4%, after -0.5% in February.
China: April CPI and PPI (Tuesday) are forecast at 2.2% y/y from 2.3%, and -4.0% y/y from -4.3%, respectively. April loan growth is penciled in at 14.5% y/y from 14.7%, while new yuan loans are expected to shrink to CNY 800.0 bln from 1,379.0 bln in March.
Japan: Preliminary March leading and coincident indices are due Wednesday, with March current account data (Thursday) which is forecast at a JPY 2,800.0 bln surplus from the 2,434.9 bln previously. April credit data is due Thursday as well, while Friday brings the March tertiary index, which is seen down 0.2% m/m from the prior -0.1% outcome, along with money supply figures.
Australia: Economic data is thin. Housing investment (Wednesday) is expected to fall 1.0% m/m in March following the 1.5% gain in February. ANZ job ads (Monday) are expected to rise 0.1% m/m in April after the 0.2% gain in March. The thin calendar will not provide anything new on the inflation outlook and hence have no impact on the outlook for policy, with is for further rate cuts this year following last week's surprise 25 basis point easing and dovish reduction in the RBA's inflation projection for 2016. RBA Governor (Financial System) Edey speaks at the Cards and Payments Australia conference in Melbourne (Thursday).
Click here to access the full HotForex Economic calendar.
Want to learn to trade and analyse the markets? Join our webinars and get analysis and trading ideas combined with better understanding on how markets work. Click HERE to register for FREE! The next webinar will start in:
Stuart Cowell
Market Analyst 
HotForex
Disclaimer: This material is provided as a general marketing communication for information purposes only and does not constitute an independent investment research. Nothing in this communication contains, or should be considered as containing, an investment advice or an investment recommendation or a solicitation for the purpose of buying or selling of any financial instrument. All information provided is gathered from reputable sources and any information containing an indication of past performance is not a guarantee or reliable indicator of future performance. Users acknowledge that any investment in FX and CFDs products is characterized by a certain degree of uncertainty and that any investment of this nature involves a high level of risk for which the users are solely responsible and liable. We assume no liability for any loss arising from any investment made based on the information provided in this communication. This communication must not be reproduced or further distributed without our prior written permission