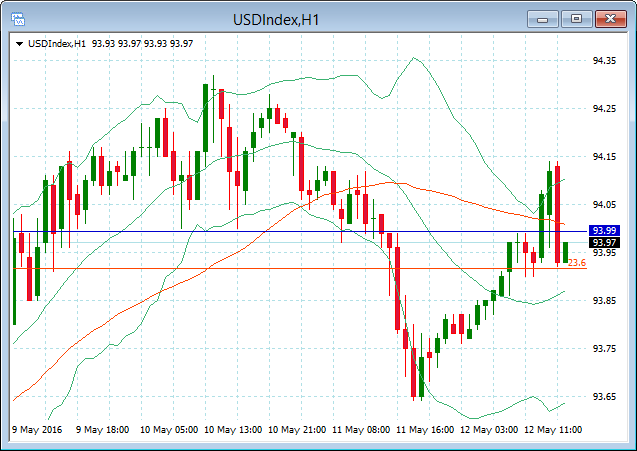 USDIndex, H1     
US initial jobless claims rose 20k to 294k in the week ended May 7, much larger than forecast, from the prior week's unrevised 274k. That brought the 4-week moving average to 268.25k from an unrevised 258k. Continuing claims increased 37k to 2,161k for the April 30 week, versus 2,124k previously (revised from 2,121k). The BLS said there were no special factors in the data, but eyebrows will be raised, especially after the weaker than expected headline April jobs number. Yet, claims remain below 300k for a 62nd straight week.
 US import prices rose 0.3% in April with export prices up 0.5%. The former disappointed expectations, while the latter beat. The 0.2% increase in March import prices was revised to 0.3%, with February's -0.4% now -0.5%. Export prices in March were not revised from unchanged, but February was bumped up slightly to 0.4% from -0.5%. For import prices, petroleum prices were up 4.1% versus the prior 9.6% surge (revised from 6.5%). Excluding petroleum, prices edged up 0.1% from -0.1% (revised from -0.2%). Import prices with Canada were up 1.4% and were down 0.1% with China. As for export prices, agriculture increased 0.5% from -2.3% (revised from -2.5%), and were up 0.5% excluding agriculture.
The dollar slipped slightly following the mix of data, EURUSD edged up to toward 1.1400, as USD-JPY dipped to 109.22 lows from just over 109.35 and USDIndex lost the 94.00 handle.
Always trade with strict risk management. Your capital is the single most important aspect of your trading business.
Want to learn to trade and analyse the markets? Join our webinars and get analysis and trading ideas combined with better understanding on how markets work. Click HERE to register for FREE! The next webinar will start in:
Stuart Cowell
Market Analyst 
HotForex
Disclaimer: This material is provided as a general marketing communication for information purposes only and does not constitute an independent investment research. Nothing in this communication contains, or should be considered as containing, an investment advice or an investment recommendation or a solicitation for the purpose of buying or selling of any financial instrument. All information provided is gathered from reputable sources and any information containing an indication of past performance is not a guarantee or reliable indicator of future performance. Users acknowledge that any investment in FX and CFDs products is characterized by a certain degree of uncertainty and that any investment of this nature involves a high level of risk for which the users are solely responsible and liable. We assume no liability for any loss arising from any investment made based on the information provided in this communication. This communication must not be reproduced or further distributed without our prior written permission