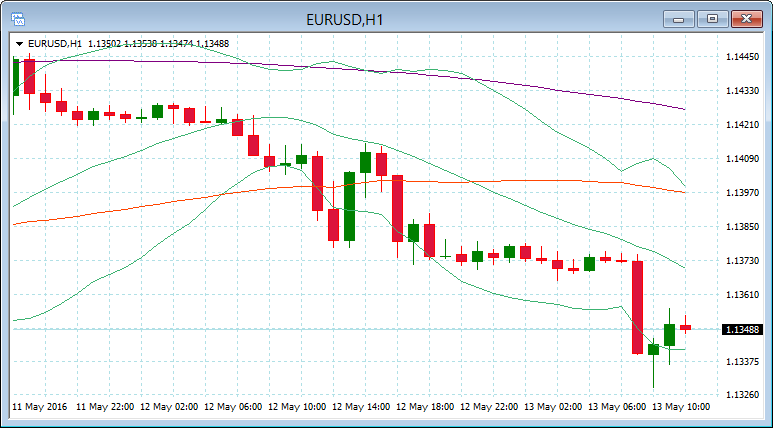 EURUSD, H1    
Eurozone Q1 GDP growth was revised down to 0.5% q/q from 0.6% q/q reported initially. Still a solid acceleration from the 0.3% q/q in Q4 last year, but it seems stronger than expected German growth failed to compensate for the modest acceleration in Italy, the weaker than expected number in Portugal and the ongoing contraction in Greece. In any case, while the earlier timing of Easter may have helped Q1 growth along, indicators already point to a slowdown ahead and the balance of risks going ahead remains firmly tilted to the downside. For now the ECB is on hold and focused on implementing the measures already announced, but at the same time officials are keeping the door to further easing wide open.
 Although a revision downwards it was a relatively good figure, with only Greece and Latvia not growing, EURUSD ticked up to the 1.1350 area, but down from yesterdays 1.1400 this morning.
Always trade with strict risk management. Your capital is the single most important aspect of your trading business.
Want to learn to trade and analyse the markets? Join our webinars and get analysis and trading ideas combined with better understanding on how markets work. Click HERE to register for FREE! The next webinar will start in:
Stuart Cowell
Market Analyst 
HotForex
Disclaimer: This material is provided as a general marketing communication for information purposes only and does not constitute an independent investment research. Nothing in this communication contains, or should be considered as containing, an investment advice or an investment recommendation or a solicitation for the purpose of buying or selling of any financial instrument. All information provided is gathered from reputable sources and any information containing an indication of past performance is not a guarantee or reliable indicator of future performance. Users acknowledge that any investment in FX and CFDs products is characterized by a certain degree of uncertainty and that any investment of this nature involves a high level of risk for which the users are solely responsible and liable. We assume no liability for any loss arising from any investment made based on the information provided in this communication. This communication must not be reproduced or further distributed without our prior written permission.