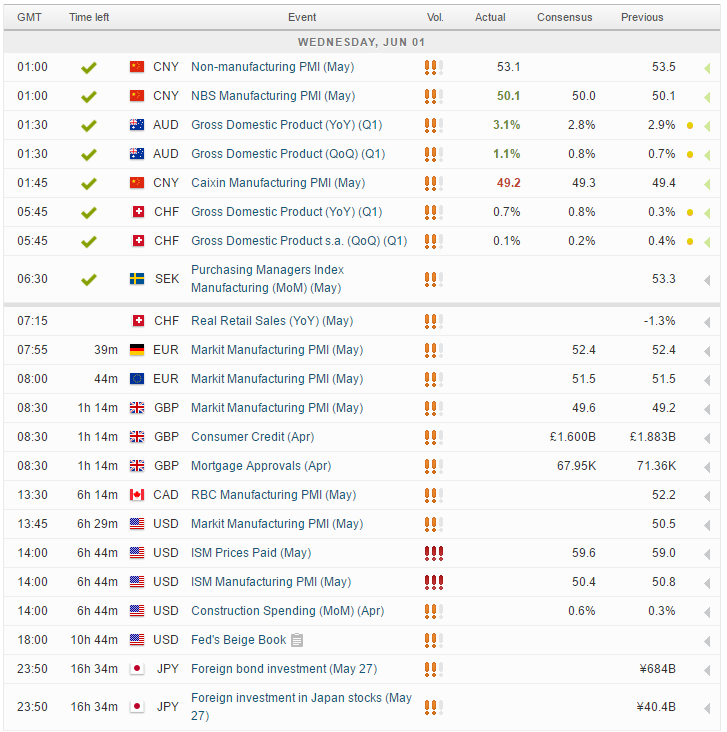 FX News Today
Sterling remains under pressure on new Brexit polls that showed a swing in support for the Leave campaign. The FT's Brexit poll tracker is now showing 46% in favour of Remain and 43% in favour of Leave, versus respective figures of 46% and 41% that were being shown yesterday morning (London time). Bookmaker Ladbrokes are now reporting 75% of all Brexit bets are in favour of the UK remaining in the EU, down from 79% seen yesterday morning and off from the 81% level seen at the end of last week. At the same time in Japan PM Abe announced a two-plus year delay in the planned sales tax hike (which had been scheduled for April next year), raising concerns about fiscal sustainability although a widely anticipated move.
China's manufacturing PMI was unchanged in May at 50.1, while the Caixin/Markit index slipped to 49.2 from 49.4. Those numbers are disappointing and could leave a bearish tone in equities. Though the manufacturing PMI is above the 50 expansion-contraction mark for a 3rd straight month, it's been on a softening trend since mid 2014 and will add to worries over a growth slowdown. The non-manufacturing PMI slipped to 53.1 from 53.5. Also, the Caixin manufacturing PMI dipped to 49.2 from 49.4. That's where it was a year ago. It's a 15th consecutive month in contraction.
Switzerland's economy expanded sluggishly in the Q1 2016 as government spending fell for the first time in 12 months. The slowdown to 0.1 % followed a period of expansion of 0.4% in the last quarter of 2015 and was less than the 0.3 % growth that economists forecasted. The report published by the State Secretariat for Economic Affairs in Bern also showed that government spending dropped 0.8 %.
Atlanta Fed's GDPNow estimate remained at 2.9% for Q2 unchanged from the last reading on May 26 after taking the measure of the personal income report this morning: "The GDPNow model forecast for real GDP growth (seasonally adjusted annual rate) in the second quarter of 2016 is 2.9 percent on May 31, unchanged from May 26. The second-quarter forecast for real consumer spending growth remained at 3.6 percent after this morning's personal income and outlays release from the U.S. Bureau of Economic Analysis." See the Atlanta Fed GDPNow website for more insight.
Yesterday's US reports revealed a hefty 1.0% April surge for consumption that beat estimates and dominated the day's headlines, alongside a largely expected 0.4% April income rise, and disappointing May declines for the Chicago PMI to 49.3 from 50.4, for the Dallas Fed index to -20.8 from -13.9, and for consumer confidence to 92.6 from 94.7 (was 94.2). The big April spending surge lifted our Q2 GDP forecast to 2.6% from 2.0%, with a solid 3.47% (was 2.3%) Q2 growth clip for real consumption. Output is rebounding in Q2 as we approach the end of the inventory headwind, despite the day's ugly confidence and sentiment setbacks for May.
Euro Area Manufacturing PMI: Eurozone Manufacturing PMI numbers for May are out today and are expected to be confirmed unchanged at 51.5. Manufacturing PMI has fallen from 53.2 to 51.5 in 2016.
UK Manufacturing PMI: While UK manufacturing PMI high in 2015 was 55.5 the current numbers are considerably lower. Today's release is expected to confirm the number at 49.6 which would be an improvement from April's disappointing number of 49.2.
US Fed's Beige Book: Fed's Beige Book for the month of May is published today. Markets look forward to this publication in order to gain insights on Fed's thinking process in terms of the future interest rates policy.
Want to learn to trade and analyse the markets? Join our webinars and get analysis and trading ideas combined with better understanding on how markets work. Click HERE to register for FREE! The next webinar will start in:
Janne Muta
Chief Market Analyst
HotForex
Disclaimer: This material is provided as a general marketing communication for information purposes only and does not constitute an independent investment research. Nothing in this communication contains, or should be considered as containing, an investment advice or an investment recommendation or a solicitation for the purpose of buying or selling of any financial instrument. All information provided is gathered from reputable sources and any information containing an indication of past performance is not a guarantee or reliable indicator of future performance. Users acknowledge that any investment in FX and CFDs products is characterized by a certain degree of uncertainty and that any investment of this nature involves a high level of risk for which the users are solely responsible and liable. We assume no liability for any loss arising from any investment made based on the information presented here.