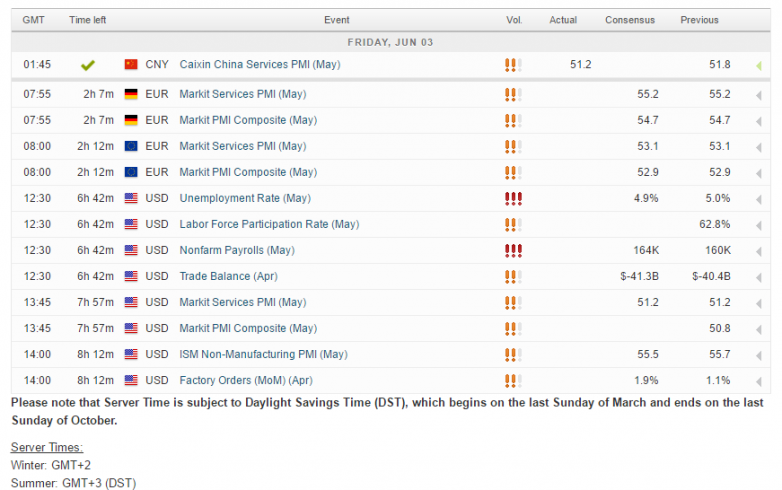 FX News Today
FX Update: Narrow ranges have prevailed among the dollar majors and other currency pairings as markets hunker down into the release of the May U.S. jobs report today. The yen has remained firm with USDJPY edging out an 18-day low of 108.49, surpassing yesterday's low by only 3 pips. The yen has been trading firm since Wednesday's announcement by Japanese PM Abe's of "bold economic measures" later in the year, along with a bigger delay than anticipated in the planned sales tax hike (to at least 2019), which seemed to suggest a shift in policy toward fiscal and away from monetary. Elsewhere, EURUSD has seen barely more than a 15 pip range centred around 1.1150, settling after yesterday's short-lived foray above 1.1200. The U.S. employment report will arrive today with recent data having failed to ignite expectations for a Fed rate hike as soon as June 15. We're forecasting a 190k increase in nonfarm payrolls, but note risk is to the downside (the median forecast is for a 150k headline). Hourly earnings and average workweek components will be watched closely as they're also key to the FOMC's decision, while the unemployment rate is seen ticking down to 4.9% from 5.0%. Unless we see an outcome near to our forecast, or above, the dollar will likely take a tumble.
European Outlook: Bund and Gilt futures managed robust gains yesterday, as Draghi left the door open for further easing, although the lack of further measures in the pipeline left stock markets little changed at the end of the day. FTSE 100 stock futures are slightly higher, and Asian equity markets also managed slight gains, but U.S. stock futures are down and trading remains cautious ahead of U.S. jobs data. Today's European calendar has final Eurozone Services PMIs and the first reading of the U.K. Services PMI as well as Eurozone retail sales, but it is the Brexit referendum that is starting to cast a big shadow over markets and keeps investors cautious. Oil prices are also little changed, with the front end WTI future holding slightly above USD 49 per barrel.
ECB – Nothing New in the Pipeline: The ECB not only maintained interest rates today, but also implicitly confirmed that it is putting all its hopes on the measures already announced, but yet to be implemented, and that nothing new is in the pipeline. True, the door to additional measures stays open and especially the Brexit referendum remains a near term, but also medium term risk that could spark turmoil and put a strain not just on financial markets, also the European Union and ultimately EMU. Still, in the central scenario the ECB seems done, with the ball firmly in the court of governments now, to push on with the structural reforms necessary to complement the accommodative monetary policy.
Fedspeak: Dallas Fed's Kaplan: raising rates in June or July is getting to the point where it makes sense, said the moderate non-voter, who noted that inflation picked up in the past 3-months and GDP is seen near 2% this year. He sees room for the labor force participation rate to improve, but notes we're "pretty darn close" to full employment. Kaplan expects the labor force participation rate to fall in the next 10-years to 61%, however, due to demographics. Overall, this is relatively hawkish, though not out of line with recent Fedspeak.
Main Macro Events Today
US Employment data NFP May employment data is out today and should reveal a 190k (median 155k) headline which would follow 160k in April and 208k in March. We expect the unemployment rate to tick down to the prior cycle low of 4.9% (median 4.9%) from 5.0% in April and March. There is downside risk to the release from the higher initial claims average for the month and the drop in producer sentiment.
US Non-manufacturing ISM The May ISM-NMI is also out today to close out the May producer sentiment releases. We expect a headline decline to 55.0 (median 55.3) from 55.7 last month and 54.5 in March. Most other measures of producer sentiment declined for the month so there is some downside risk to the release as we discuss in our May 23 commentary but the ISM managed to increase to 51.3 from 50.8 in April.
Want to learn to trade and analyse the markets? Join our webinars and get analysis and trading ideas combined with better understanding on how markets work. Click HERE to register for FREE! The next webinar will start in:
Stuart Cowell
Market Analyst 
HotForex
Disclaimer: This material is provided as a general marketing communication for information purposes only and does not constitute an independent investment research. Nothing in this communication contains, or should be considered as containing, an investment advice or an investment recommendation or a solicitation for the purpose of buying or selling of any financial instrument. All information provided is gathered from reputable sources and any information containing an indication of past performance is not a guarantee or reliable indicator of future performance. Users acknowledge that any investment in FX and CFDs products is characterized by a certain degree of uncertainty and that any investment of this nature involves a high level of risk for which the users are solely responsible and liable. We assume no liability for any loss arising from any investment made based on the information provided in this communication. This communication must not be reproduced or further distributed without our prior written permission.