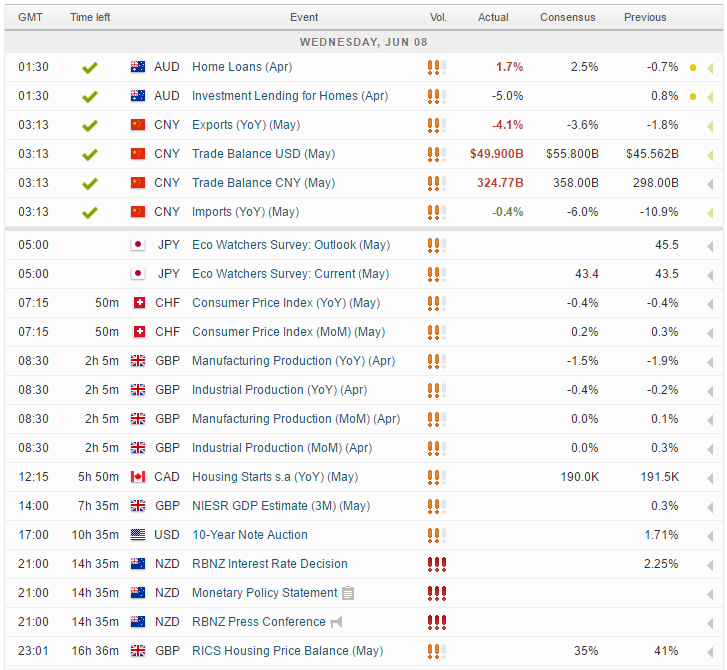 FX News Today
Asian stock markets are mixed, with Japanese markets moving higher and oil producers gaining as oil prices moved higher, with the front end Nymex future trading above USD 50 per barrel. Chinese trade data showed imports beating estimates and saw the CSI move off earlier lows. US and UK stock futures are lower though, so overall positive leads for European bond markets, which moved higher yesterday, despite broad gains in equities. Gilt and FTSE 100 underperformed as Sterling bounced back from Monday's drop. The European calendar has Swiss inflation data and UK production numbers. The ECB will start its corporate bond purchase program today, although officials this week indicated that buying may not amount to much.
The World Bank made a sizeable 0.5% cut on its 2016 global growth forecast from January estimation of 2,9% to 2.4%. The cut was made due to persistently low commodity prices, slow demand in advanced economies, weak trade and declining capital flows. Emerging market countries that live from commodity exports have found it hard to adapt to lower prices for oil, metals, and other commodities. According to the bank these economies are accounting for half of the downward revision.  The World Bank expects emerging economies to grow at a meager 0.4 percent pace in 2016, a downward revision of 1.2 percentage points from the January outlook.  Low commodity prices help the commodity-importing emerging market countries that are doing better. However, the benefits of lower prices on energy and other goods have been slow to show up. The World Bank now expects growth in commodity-importing countries will reach 5.8% which represent a downgrade of 0.1% from the January forecast.
Canada's Ivey PMI fell to 49.4 in May from 53.1 in April on a seasonally adjusted basis, undershooting forecasts for a decline that would have left the index above 50.0 (median was 52.0). The pull-back leaves the Ivey at the weakest level of the year, and is below the most recent foray into contractionary (sub-50) territory in December of 2015 that saw the index fall to 49.9. But while the magnitude of the decline in May was unexpected, it was not shocking given the Fort McMurray fires during the month, and the concerns about the outlook for the region and the impact of stopped oil production on the national economy. Notably, the unadjusted Ivey PMI rose to 58.4 in May from 50.6 in April, revealing the typical move in this series between April and May. However, the index was well below the not seasonally adjusted 65.2 seen last May.
US consumer credit rose $13.4 bln in April following the $28.4 bln March surge (revised from $29.7 bln). Nonrevolving credit continued to pace the strength, posting an $11.8 bln increase versus the prior $17.9 bln jump (revised from $18.6 bln). Revolving credit was up $1.6 versus $11.1 bln (revised from $10.4 bln).
Main Macro Events Today
UK Industrial Production: The YoY Industrial Production numbers for April are released today and are expected to come in slightly worse than in previous month (-0.4% vs. -0.2). Industrial production in the UK has been contracting since the cycle high in December 2013.
Canada Housing Starts: We expect housing starts, due today, to slow modestly to a 190.0k unit rate in May from 191.5k in April, as starts continue to unwind from the 219.4k year high rate in February.
RBNZ Interest Rate Decision: The Reserve Bank of New Zealand is expected to ease rates further. The Governor Wheeler said in a policy note that further easing may be required to ensure that future average inflation settles the middle of the target range. He has also expressed his wish for a lower dollar.
Want to learn to trade and analyse the markets? Join our webinars and get analysis and trading ideas combined with better understanding on how markets work. Click HERE to register for FREE! The next webinar will start in:
Janne Muta
Chief Market Analyst
HotForex
Disclaimer: This material is provided as a general marketing communication for information purposes only and does not constitute an independent investment research. Nothing in this communication contains, or should be considered as containing, an investment advice or an investment recommendation or a solicitation for the purpose of buying or selling of any financial instrument. All information provided is gathered from reputable sources and any information containing an indication of past performance is not a guarantee or reliable indicator of future performance. Users acknowledge that any investment in FX and CFDs products is characterized by a certain degree of uncertainty and that any investment of this nature involves a high level of risk for which the users are solely responsible and liable. We assume no liability for any loss arising from any investment made based on the information presented here.