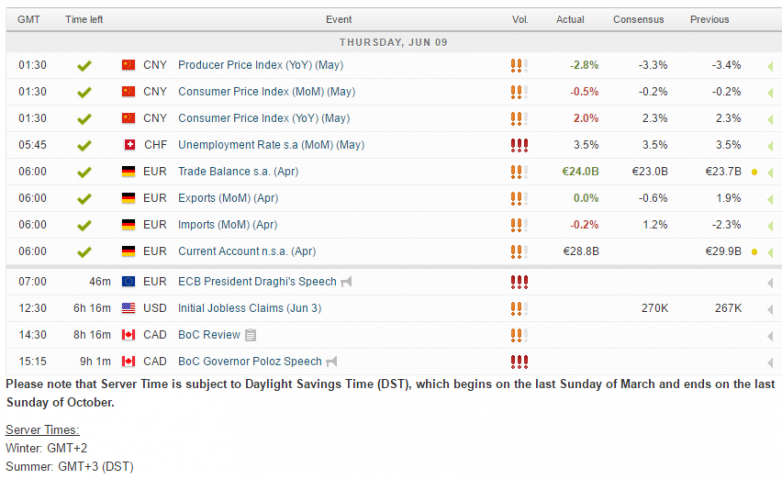 FX News Today
European Outlook: Asian stock markets headed south, with Japan underperforming as the Yen strengthened ahead of BoJ and Fed meetings. Weaker than expected machinery orders added to pressure. Chinese CPI was much weaker than expected and PPI better than expected adding to the raft of very mixed news. U.S. and U.K. stock futures are also heading south despite ongoing advance in oil prices, with the front end WTI future rising further above USD 51 per barrel. Released overnight the RICS U.K. house price balanced dropped more than expected and fell back to 19% in May, while April was revised down to 39.% from 41%. French non-farm payrolls were revised higher to show a rise of 0.3% q/q in Q1. Still to come, Germany and the U.K. release trade data but the focus will likely be on Draghi's speech at the economic forum in Brussels.
RBNZ maintained the OCR at 2.25%, but maintained scope for further easing if economic data suggest the need. Governor Wheeler said, "Further policy easing may be required to ensure that future average inflation settles near the middle of the target range. We will continue to watch closely the emerging flow of economic data." The move was anticipated, however, some analysts were suggesting a cut could be possible. The NZD soared on the news to a one year high with the NZDUSD currently trading at 0.7135.  Governor Whelers view on further easing later this year remains consistent and in line with many in the market including ourselves.
Bank of Korea cut rates by 25 bps to 1.25%, upending expectations for another steady 1.50% setting. The surprise cut was driven by concerns the government's efforts to restructure indebted firms is weighing on the broader economy. A worsening outlook for the economic growth suggested that a rate cut would happen in the near term. The government's plans to create a fund to facilitate corporate restructuring appears to have prompted them to add stimulus now as opposed to later as they sought to offset any negative impacts such as lost jobs or reduced investment.
US JOLTS report showed job openings rose 118k in April to 5,788k, matching the prior record high set in July 2015, after rising 62k to 5,670k in March (revised down from 5,757k). The rate rose to 3.9% from 3.8% (revised from 3.9%). But, the rest of the report wasn't great. Hirings continued to slip, falling 198k to 5,092k after dropping 220k to 5,290k (revised from 5,292k). Also, the hire rate declined to 3.5% from 3.7%. Quitters dipped 36k to 2,912k after sliding 7k to 2,948k in March (revised from 2,980k). The rate fell to 2.0% from 2.1%. This report's importance (it was created by and is a favorite of Yellen) for the June FOMC was minimized by the May employment release.
Main Macro Events Today
ECB President Draghi Speaks Due to speak at the Brussels Economic Forum. Always one to watch, following last week's press conference and yesterday's initial corporate bond purchases expect more of the same "steady we go".
US Initial Jobs claims Following the hiatus caused by the NFP on Friday, expect this week's initial jobless numbers to followed more closely than usual.  276k expected, median 270K.
Want to learn to trade and analyse the markets? Join our webinars and get analysis and trading ideas combined with better understanding on how markets work. Click HERE to register for FREE! The next webinar will start in:
Stuart Cowell
Market Analyst 
HotForex
Disclaimer: This material is provided as a general marketing communication for information purposes only and does not constitute an independent investment research. Nothing in this communication contains, or should be considered as containing, an investment advice or an investment recommendation or a solicitation for the purpose of buying or selling of any financial instrument. All information provided is gathered from reputable sources and any information containing an indication of past performance is not a guarantee or reliable indicator of future performance. Users acknowledge that any investment in FX and CFDs products is characterized by a certain degree of uncertainty and that any investment of this nature involves a high level of risk for which the users are solely responsible and liable. We assume no liability for any loss arising from any investment made based on the information provided in this communication. This communication must not be reproduced or further distributed without our prior written permission.