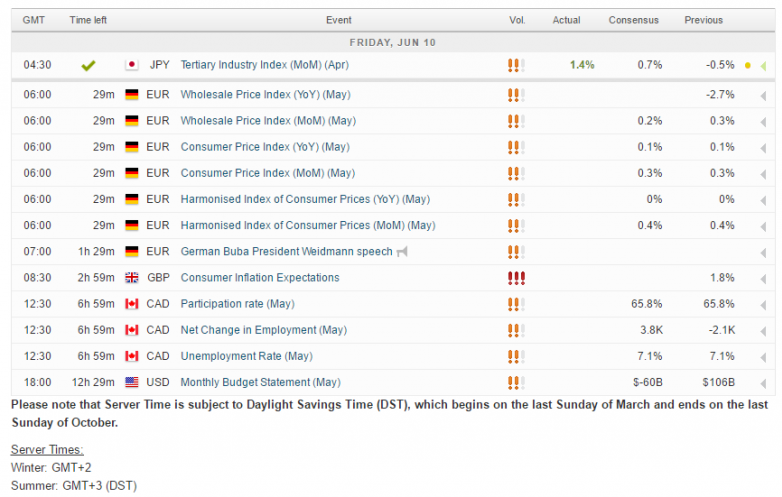 FX News Today
European Outlook: Asian stock markets declined in holiday thinned trade, following on losses on Wall Street and Europe yesterday. China and Taiwan were closed for a holiday. U.S. and U.K. stock futures are also down. Oil prices retreated, putting pressure on commodity companies and investors are holding back ahead of Chinese data releases over the weekend and the Fed meeting next week. More support then for core European bond futures, with 10-year Gilt and Bund yields already touching new record lows yesterday. Comments from ECB's Jazbec, who confirmed the central bank's wait and see stance, saying there is no need for new stimulus at the moment, may keep a lid on Bunds, however. The calendar has final German inflation data and French production numbers as well as Norway CPI data.
Japan tertiary Industry activity: A surprise rise in the level of services purchased by businesses for June to 1.4% near double expectations of 0.7%. The may figure was also revised higher to -0.5% from -0.7% April was -0.1%. USDJPY traded higher and is currently north of 107.00.
Brexit Would Undermine Europe's Reform Prospects: The Brexit referendum on June 23 and the Spanish election on June 26 could well turn out to be decisive for the future of the EU, but also the monetary union. If the U.K. decides to leave and protest parties win the day in Spain, the chances of any real structural reforms in Europe will get ever more remote. At the same time a U.K. exit would set a dangerous precedent and play into the hands of protest parties in Germany, which are already calling for Germany's exit from the Eurozone.
US Reports: revealed upside wholesale trade surprises and a tight round of claims figures that raised GDP prospects for both Q1 and Q2, and lifted our June payroll estimate to 210k from 200k. June payrolls will benefit from a reversal of May's Verizon and weather distortions. We raised our Q2 GDP growth forecast to 2.6% from 2.4%, after a boost in Q1 GDP growth to 1.2% from 0.8%. We saw firm April wholesale inventory and sales data after a March inventory boost that left a second month of increases and a third month of stronger sales than inventories. For claims, we saw a 4k drop to a lean 264k that left a five-week string of declines that unwound elevated May levels.
Main Macro Events Today
Canadian Employment We expect employment, to rise 5.0k in May after the 2.1k drop in April. May was a challenging month for Canada's economy, with wild fires forcing the evacuation of Fort McMurray and shuttering oil sand production in the regions. Statistics Canada has not let on how these evacuations will be treated. Will they count the evacuated workers as not employed or will they just be excluded from the tally? Our projection assumes they will be excluded from the survey. If they are included in the survey, we could see a hefty decline. Unemployment is seen steady at 7.1%.
University Of Michigan Consumer Sentiment The Preliminary release is expected to fall to 94.1 from 94.7 last month (which itself has revised down from 95.8). The April figure was 89.0. The IBD/TIPP Poll for the month fell to 48.2 from 48.7 but we except the Bloomberg Consumer Comfort measure to average a higher 42.7 in June.
Want to learn to trade and analyse the markets? Join our webinars and get analysis and trading ideas combined with better understanding on how markets work. Click HERE to register for FREE! The next webinar will start in:
Stuart Cowell
Market Analyst 
HotForex
Disclaimer: This material is provided as a general marketing communication for information purposes only and does not constitute an independent investment research. Nothing in this communication contains, or should be considered as containing, an investment advice or an investment recommendation or a solicitation for the purpose of buying or selling of any financial instrument. All information provided is gathered from reputable sources and any information containing an indication of past performance is not a guarantee or reliable indicator of future performance. Users acknowledge that any investment in FX and CFDs products is characterized by a certain degree of uncertainty and that any investment of this nature involves a high level of risk for which the users are solely responsible and liable. We assume no liability for any loss arising from any investment made based on the information provided in this communication. This communication must not be reproduced or further distributed without our prior written permission.