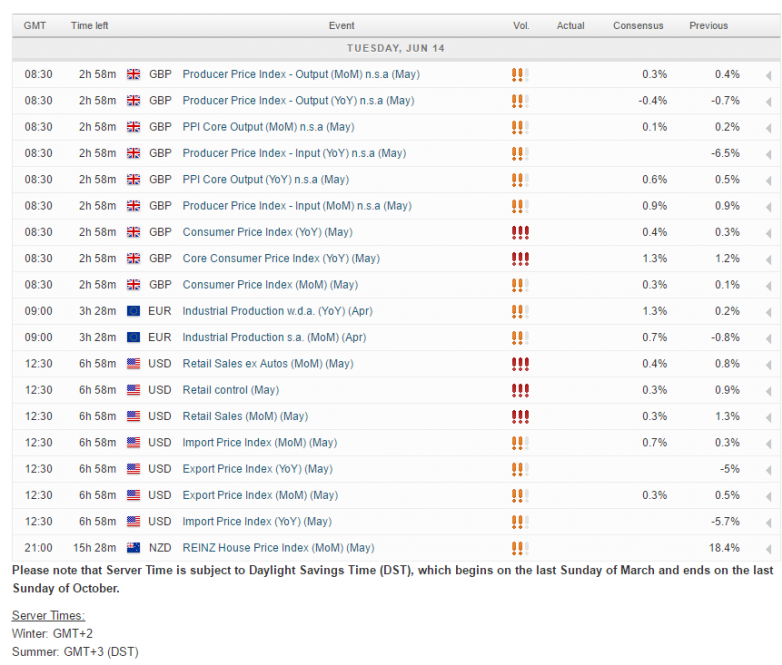 FX News Today
European Outlook: Stock markets remain under pressure, with most Asian markets down and U.S. and U.K. stock futures also heading south. Risk aversion continues to dominate amid heightened uncertainty ahead of this week's round of central bank meetings and next week's Brexit referendum. The focus has shifted to the wider fallout for the EU and Eurozone spreads are widening sharply amid concerns that a U.K. exit from the EU would set a dangerous precedent. The European calendar focuses on inflation data, with U.K. CPI expected to nudge higher to 0.4% y/y from 0.3% y/y in April. Italy and Spain release final May inflation data, and the Eurozone has production numbers for April.
Brexit Polls push a volatile sterling: Three polls yesterday had the Leave camp ahead and the UK largest circulation newspaper (The Sun) openly came out in favour of a Brexit vote. The FT poll of polls now has Remain on 45% Leave on 47% and Undecided at 9%. Seven of the last ten polls have given the Leave camp the lead. UK government gilts have surged on the uncertainty as sterling falls. GBPUSD is trading below  1.4160, GBPJPY is below 150.00 and EURGBP has rallied as high as 0.7880.
US VIX equity volatility surged sharply since Friday considering the relatively mild drops in the S&P500 since then, indicative of heightened sensitivity to downside price action in stocks. The VIX had traded below 13.0 earlier in June to 2-month lows, but surged above 15.0 Friday to clear 17.0. Monday it gapped out above 18.0 to open at 18.24 and closed at the day high of 20.97 (up 23.14% on the day). Certainly it appears that hedging against downside risks via the VIX has proven popular with several major macro fund managers talking down stocks and up gold. That may be especially true after the June peak at 2,120 stopped just shy of all-time highs of 2,134 before touching a low of 2,085 today, while the 200-day m.a. is well south at 2,015. Brexit risks near-term, domestic terror acts and polarizing November elections further out, not to mention global growth risks, remain gusty headwinds for stock investors.
Fed Policy Outlook: No change in policy is expected from the FOMC two day meeting which starts later today, and the market has largely priced out much chance for a hike this year, according to Fed funds futures, which are also benefiting from flight to quality trades. The soft jobs report and lack of a hint from Yellen of an imminent policy shift indicate the FOMC will remain sidelined this week. Brexit uncertainties and fears of financial market instability should the U.K. vote for Brexit next week, along with weaker growth out of Japan and Asia have seen the futures push out a possible tightening until early 2017. The implied February future suggests a 50-50 bet on a 25 bp hike. We're still expecting two hikes, with the FOMC acknowledging as much in its forecasts on Wednesday, though we note the Fed is running out of time if it wants to effect such action at a regularly slated meeting, since after Wednesday, there will be only four more, with the November 1, 2 dates seemingly out of the running given the elections.
Main Macro Events Today
UK CPI Inflation in Britain is expected to have sped up slightly in May, but overall price pressures remain significantly subdued as both external and internal factors continue to weigh on consumer price growth. The annual rate of UK inflation is expected to have picked up to 0.4% in May, after slipping to 0.3% a month before, mostly on the back of an earlier Easter this year compared with the previous year. Core inflation, which strips out volatile prices of food and energy, is also seen edging up to 1.3% from 1.2% measured a month before.
US Retail Sales US May retail sales data is out today should reveal a 0.6% (median 0.3%) headline increase with a 0.6% (median 0.3%) increase for the ex-autos figure as well. This follows April figures of 1.3% for the headline and 0.8% for ex-autos. The increase in May vehicle sales and our expectations for further gains in gasoline prices should help lift the headline
Want to learn to trade and analyse the markets? Join our webinars and get analysis and trading ideas combined with better understanding on how markets work. Click HERE to register for FREE! The next webinar will start in:
Stuart Cowell
Market Analyst 
HotForex
Disclaimer: This material is provided as a general marketing communication for information purposes only and does not constitute an independent investment research. Nothing in this communication contains, or should be considered as containing, an investment advice or an investment recommendation or a solicitation for the purpose of buying or selling of any financial instrument. All information provided is gathered from reputable sources and any information containing an indication of past performance is not a guarantee or reliable indicator of future performance. Users acknowledge that any investment in FX and CFDs products is characterized by a certain degree of uncertainty and that any investment of this nature involves a high level of risk for which the users are solely responsible and liable. We assume no liability for any loss arising from any investment made based on the information provided in this communication. This communication must not be reproduced or further distributed without our prior written permission.