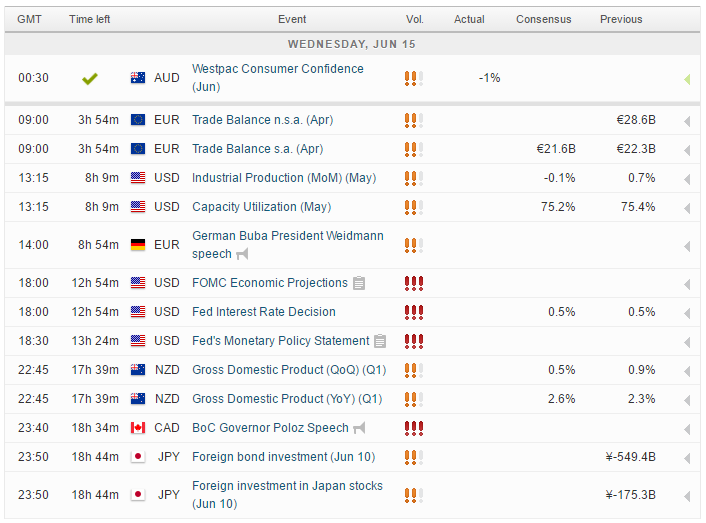 FX News Today
Stock markets started to stabilise overnight, as the Yen weakened and helped exporters to bounce back ahead of today's Fed decision. The BoJ is due to follow and some speculation of further central bank action has also underpinned the first improvement in Topix and Nikkei in five days. Chinese reversed early losses and jumped higher, sparking speculation that state-backed funds may be supporting the market, after MSCI Inc. refused to add China's domestic equities to the benchmarks indexes. U.S. stock futures are still in the red ahead of the Fed, but FTSE 100 futures are moving higher. Oil prices are down, with the front end Nymex future trading below USD 48 per barrel. Nervousness remains ahead of the round of central bank decisions this week and next week's Brexit referendum. The events will likely overshadow the data calendar once again, which has U.K. labour market data and European trade numbers.
FOMC began its meeting and announces its policy stance this afternoon at 14:00 ET. While a hike today is off the table, the policy statement and Fed forecasts will be scrutinized for clues on the rate path going forward. Outside of the weak May employment report, most pieces of data have been consistent with GDP growth of 2.6% this quarter. Price pressures have also been on the rise. And these factors support expectations that the FOMC will look to normalize further, and perhaps as soon as July, as is out view, as well as the Median estimate from last week's Survey. The Fed's dot plot is likely to again show 2 tightenings this year, though the median rate might be revised slightly lower. We also expect Fed Chair Yellen will be cautiously optimistic on the economy in her press conference, while still acknowledging the downside risks, as she did in her June 6 speech.
Canada Household Leverage Remains Near Record High: Canada's household leverage remained elevated in Q1, as the ratio of household credit market debt to disposable income slipped ever so slightly to 165.3% from a record high 165.4% in Q4. The historically elevated debt to income ratio continues to highlight a prominent risk associated with the current policy setting. However, the Bank of Canada's focus is growth and inflation, so rising leverage amid the current ultra accommodative rate environment will continue to be taken in stride by policymakers.
Atlanta Fed's GDPNow was lifted to 2.8% in Q2 from 2.5% previously in the wake of the gain in May retail sales: "The GDPNow model forecast for real GDP growth (seasonally adjusted annual rate) in the second quarter of 2016 is 2.8 percent on June 14, up from 2.5 percent on June 9. After this morning's retail sales release from the U.S. Census Bureau, the forecast for second-quarter real personal consumption expenditures growth increased from 3.5 percent to 3.9 percent. The next GDPNow update is Friday, June 17."
Yesterday's US reports revealed the expected May strength in retail sales and surprisingly large trade prices increases, though we also saw restrained business inventory gains that lowered our Q1 GDP growth estimate to 1.1% from 1.2%, versus the 0.8% prior reported pace. For retail sales, we saw only small prior revisions that had no net impact on our GDP forecasts, with expected May gains for gasoline station and auto dealer sales. For trade prices, we saw big increases in oil import and food export prices, but also big core price gains, and with boosts in prior import price gains that trimmed the skewing of recent trade price strength toward exports.
 Main Macro Events Today
Canada Manufacturing: We expect manufacturing shipments, due Wednesday, to grow 1.0% in April (median same at 1.0%) after the 0.9% m/m drop in March and 4.0% plunge in February. A 1.5% gain in export values after the 4.1% drop in March and 6.8% plunge in February provides a compelling reason to forecast a gain in manufacturing shipment values during April.
US NY Fed "Empire State" Index: June producer sentiment kicks off with the release of the Empire State Index on Wednesday. We expect the headline to climb to -1.0 (median -4.0) after a tumble to -9.0 in May from 9.6 in April. Producer sentiment as settled back near recent lows with the ISM-adjusted average of all measures hitting 49 again in May after a spike to 53 in March and subsequent dip to 51 in April.
US Industrial Production: May industrial production is out Wednesday and should reveal a 0.2% (median unchanged) headline decline following a 0.7% increase in April and a 0.9% decrease in March. Capacity utilization should fall to 75.2% (median 75.3%) from 75.4% in April. Factory and mining employment both declined in the May employment report which could indicate downside risk for the release.
US FOMC: We expect no rate hike today but the policy statement and Fed forecasts will be scrutinized for clues on the rate path going forward.
Bank of Canada: Governor Poloz speech.
Want to learn to trade and analyse the markets? Join our webinars and get analysis and trading ideas combined with better understanding on how markets work. Click HERE to register for FREE! The next webinar will start in:
Janne Muta
Chief Market Analyst
HotForex
Disclaimer: This material is provided as a general marketing communication for information purposes only and does not constitute an independent investment research. Nothing in this communication contains, or should be considered as containing, an investment advice or an investment recommendation or a solicitation for the purpose of buying or selling of any financial instrument. All information provided is gathered from reputable sources and any information containing an indication of past performance is not a guarantee or reliable indicator of future performance. Users acknowledge that any investment in FX and CFDs products is characterized by a certain degree of uncertainty and that any investment of this nature involves a high level of risk for which the users are solely responsible and liable. We assume no liability for any loss arising from any investment made based on the information presented here.