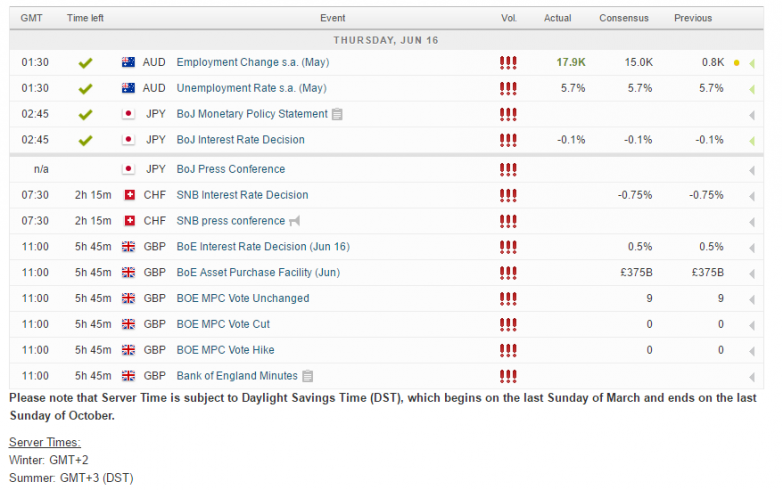 FX News Today
European Outlook: The recovery in stock markets didn't last long and markets headed south again in Asia overnight, with U.S. and U.K. stock futures also under pressure. Fed and BoJ kept policy on hold and while this was largely expected, there were some lingering hopes that at least the BoJ would add further stimulus but with the statement maybe a tad less dovish than expected, the Yen strengthened and Japanese equities sold off, with the Nikkei down -2.98%. The Hang Seng is down -2.20%. The focus now shifts to BoE and SNB meetings today. Again no changes are expected, but with Brexit risks looming the tone of the statements will be watched carefully. Event risks continue to overshadow data releases, which today include U.K. retail sales and the final reading of Eurozone May HICP numbers.
The FOMC left the funds rate unchanged: The Fed again did not define a "balance of risks" and didn't give any clear indication of the timing of the next hike, though it still expects two more this year. "Growth in economic activity appears to have picked up," said the statement, but the "pace of improvement in the labor market has slowed." This contradiction was the opposite in the previous statement, though it also noted that household spending has improved and the drag from net exports has lessened, while business investment has been soft. The Fed again indicated that inflation is running below target. There was no dissent this time from Esther George, (long time hawk), compounding the more dovish interpretation. Likewise, the dot-plot was significantly lowered, growth outlook trimmed and inflation outlook tweaked just slightly higher despite the rebound in energy prices. FOMC forecast revisions released with the policy statement show surprisingly large downward revisions in the official GDP forecasts for 2016, followed by downward bumps across the forecast horizon, leaving a distribution of 2016 Fed estimates that lie almost entirely below our own 2.2% forecast.
BOJ: The Bank of Japan refrained from expanding monetary stimulus as Governor Haruhiko Kuroda and his board continues to gauge the economic impact of their unpopular negative-rate policy ahead of an election next month. With the uncertain outlook for global markets also giving reason for pause, the BOJ held its key interest rate at minus 0.1 percent and kept the annual target for expanding the monetary base at 80 trillion yen ($764 billion). Dollar and GBP weakness and yen strength continued following the announcement USDJPY traded as low at 104.04 and GBPJPY as low as the 147.30.
US data reports: Revealed a welcome June Empire State bounce to 6.0 that reversed the May plunge to -9.0, though industrial production underperformed in May with a 0.4% drop led by a 7.0% drop in the vehicle assembly rate to an 11.4 mln clip. The vehicle sector pullback explains May weakness in other payroll and sentiment data, and a likely vehicle sector rebound into the shifting summer retooling period should support a June factory sector bounce as seen with Empire State. We also saw a 0.4% May PPI rise with a firm 0.3% core price increase, as US inflation measures continue to document both a rebound in commodity prices and a firm 2016 core price path.
Main Macro Events Today
Swiss National Bank  The official view from SNB remains that prolonged period of low interest rates carries risk for global financial stability.  Rates are currently -0.75% and no change is expected.  Prolonged period of low interest rates carries risk for global financial stability.  The SNB's baseline scenario assumes that economic conditions for the Swiss banking sector improve. Economic growth picks up moderately in the euro area, but unemployment remains high in many member states. In the US, growth remains robust. Growth in China slows further and some major emerging markets remain in recession. In Switzerland, the recovery continues and unemployment begins to decline slowly after peaking in the second half of 2016.
 UK Interest  Rate decision  No change expected UK rates with a week to the UK Referendum on membership of the EU. CPI has been under pressure and there is a very low probability of interest rate hikes before 1Q 2017.  The press conference is always of interest.
Want to learn to trade and analyse the markets? Join our webinars and get analysis and trading ideas combined with better understanding on how markets work. Click HERE to register for FREE! The next webinar will start in: 
Stuart Cowell
Market Analyst 
HotForex
Disclaimer: This material is provided as a general marketing communication for information purposes only and does not constitute an independent investment research. Nothing in this communication contains, or should be considered as containing, an investment advice or an investment recommendation or a solicitation for the purpose of buying or selling of any financial instrument. All information provided is gathered from reputable sources and any information containing an indication of past performance is not a guarantee or reliable indicator of future performance. Users acknowledge that any investment in FX and CFDs products is characterized by a certain degree of uncertainty and that any investment of this nature involves a high level of risk for which the users are solely responsible and liable. We assume no liability for any loss arising from any investment made based on the information provided in this communication. This communication must not be reproduced or further distributed without our prior written permission.