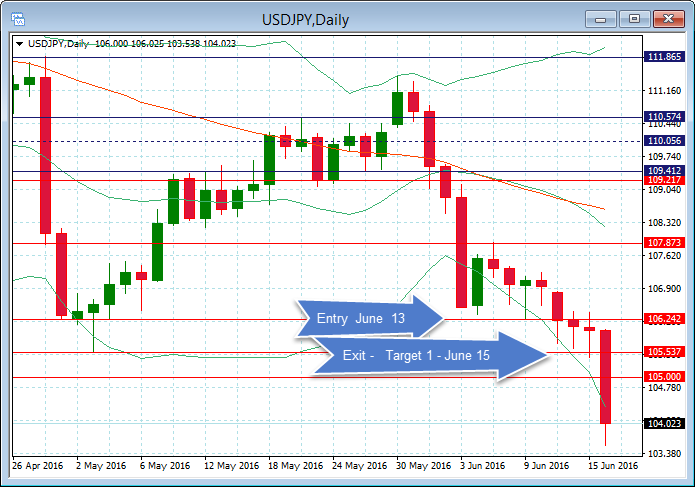 USDJPY, Daily        
The USDJPY Daily trade I identified on Monday (June 13th) was triggered on the close of the Daily candle that night with the Target 1 realised yesterday (June 15) for a 75 pip gain. This was prior to the huge move we have seen following the FOMC and BOJ announcements and press conferences overnight where we now see the pair sub 104.00 (another 150 pips further down).
It is also a reminder to "trade what you see and not what you think". One of the many mind games that lead to successful trading is to not worry about  "what might have been" or how many pips you would have made if you'd "just left the trade on that little bit longer".  That nagging little inner voice will ultimately detract from your success. The comfort of trading from completed candles and completing analysis before the event is that you set your entries and targets and let the market come to you. You do not need to "chase" trades or go "trade hunting."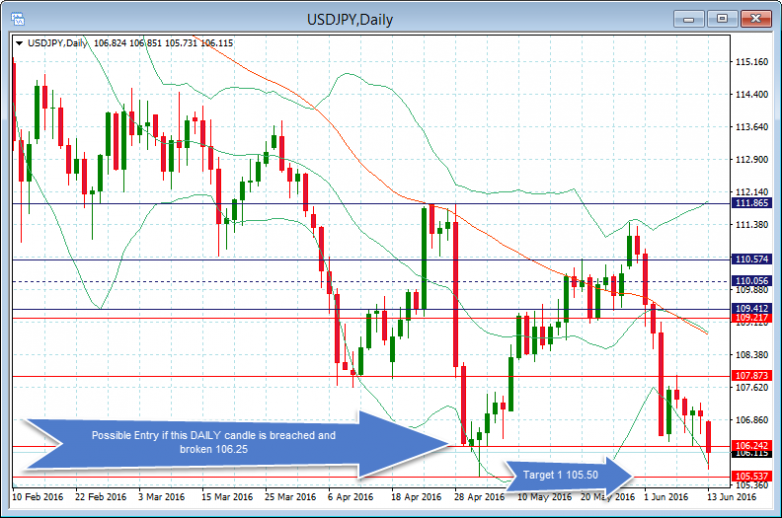 Trading on the Daily timeframe allows for Target and Entry levels to be set without the "noise" of the intra-day moves, and although I have "missed" the larger moves trading this way, the benefit is that you do not enter a market too soon and you can trade with much less stress. Patience is a skill that all successful traders practice very time they open a trade.
The strength of the yen and weakness of sterling has also seen the GBPJPY 148.80 Monthly support I identified on Monday to be breached this morning, a 100 pip move. Next down levels remain 145.15 and the 2013 low of 140.20.  Brexit and its implications continue to dominate markets and with polling day less than a week away uncertainty continues to rise as quickly as the YEN and the price of GOLD.
Want to learn to trade and analyse the markets? Join our webinars and get analysis and trading ideas combined with better understanding on how markets work. Click HERE to register for FREE! The next webinar will start in: 
Stuart Cowell
Market Analyst 
HotForex
Disclaimer: This material is provided as a general marketing communication for information purposes only and does not constitute an independent investment research. Nothing in this communication contains, or should be considered as containing, an investment advice or an investment recommendation or a solicitation for the purpose of buying or selling of any financial instrument. All information provided is gathered from reputable sources and any information containing an indication of past performance is not a guarantee or reliable indicator of future performance. Users acknowledge that any investment in FX and CFDs products is characterized by a certain degree of uncertainty and that any investment of this nature involves a high level of risk for which the users are solely responsible and liable. We assume no liability for any loss arising from any investment made based on the information provided in this communication. This communication must not be reproduced or further distributed without our prior written permission.