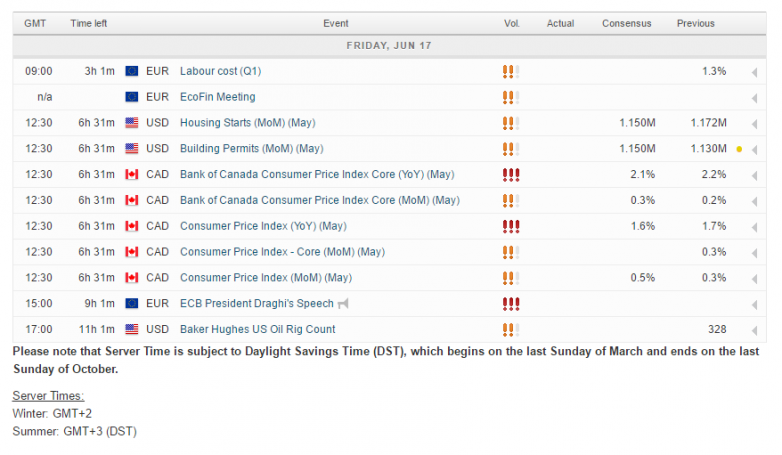 FX News Today
European Outlook: Stock markets in Asia rebounded, (Nikkei 225 closed up 1.07% at 15,599) following on from gains on Wall Street yesterday and as the Yen fell back from the highs seen in the wake of the BoJ decision yesterday. U.S. and U.K. stock futures are also higher as are oil prices although at USD 46.63 per barrel the front end WTI future remains far below recent highs. With this week's round of central bank meetings out of the way the focus is fully on the Brexit referendum on June 23 and markets are likely to continue to be jumpy ahead of the result. Today's data calendar is pretty empty and only holds Eurozone current account and BoP data, which usually are not market moving.
Brexit campaigning suspended: Following the tragic murder of UK MP and Remain supporter Jo Cox on the streets of her constituency yesterday, the campaign has been suspended for at least today. GBPUSD initially fell to lows of 1.400 before rallying to 1.4250, the news appearing to give the moral high ground to the remain camp.
BoE and SNB Waiting for Brexit Vote: BoE and SNB left policy on hold yesterday, with the Brexit referendum clearly forcing the central bank's hand and the uncertainty making any interpretation of economic data more and more difficult. The BoE left its implicit tightening bias in place, but highlighted that the last Inflation Report was based on the assumption that the U.K. votes to remain in the EU. In case of a vote in favour of Brexit all bets are off again, as the central bank will have to balance the impact of likely higher imported inflation with the likely slowdown in output growth. Although taking the wider implications for the rest of the EU into account, relative growth and bank rate projections may end up not looking fundamentally different after all.
US data reports: U.S. NAHB homebuilder sentiment index rose 2 points to 60 in June, a little better than forecast, from 58 over the past four months. This is the highest since 61 in January. The prior 58 was the lowest since May 2015. The single family sales index edged up 1 point to 64 versus 63 in April and May. The future sales index jumped to 70 from 65. The index of prospective buyer traffic improved 3 points to 47 from 44.
Main Macro Events Today
Canada CPI : We expect total CPI, due today, to expand at a 1.7% annual pace in May following an identical 1.7% y/y gain in April. But total CPI is seen jumping 0.6% m/m in May after the 0.3% gain in April, as higher gasoline prices and depreciation of the Canadian dollar both conspire to drive the index higher relative to April. The Bank of Canada's core CPI index is projected to expand at a 2.2% y/y pace in May, matching the 2.2% rate in April. But here too we see acceleration in the monthly growth rate, with core CPI seen expanding 0.5% m/m in May after the 0.2% gain in April.
Draghi Speech: The ECB president Mario Draghi will be speaking at 15:00hrs. Although he is unlikely to repeat the famous "whatever it takes" stance, expect some positive words on the euro project. The occasion of the speech is in honour of Theodor Waigel, (a former German Finance Minister) who is often referred to as the "father of the euro". Definitely one to watch today.
Want to learn to trade and analyse the markets? Join our webinars and get analysis and trading ideas combined with better understanding on how markets work. Click HERE to register for FREE! The next webinar will start in: 
Stuart Cowell
Market Analyst 
HotForex
Disclaimer: This material is provided as a general marketing communication for information purposes only and does not constitute an independent investment research. Nothing in this communication contains, or should be considered as containing, an investment advice or an investment recommendation or a solicitation for the purpose of buying or selling of any financial instrument. All information provided is gathered from reputable sources and any information containing an indication of past performance is not a guarantee or reliable indicator of future performance. Users acknowledge that any investment in FX and CFDs products is characterized by a certain degree of uncertainty and that any investment of this nature involves a high level of risk for which the users are solely responsible and liable. We assume no liability for any loss arising from any investment made based on the information provided in this communication. This communication must not be reproduced or further distributed without our prior written permission.