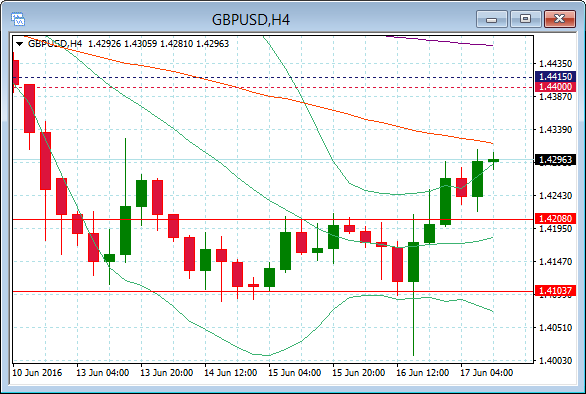 GBPUSD, H4        
The tragic events on the streets of small town in northern England yesterday prompted a dramatic about turn in the UK political tone, which was mirrored in the markets. The EU Referendum campaign has been suspended, with no indication of when it will be restarted;   however the referendum will still go ahead next Thursday. The FT's poll tracker is showing 48% support to leave the EU and 43% support to remain in the EU, with the Leave campaign having gained one percentage point and the Remain camp having lost one percentage point following the inclusion of the two latest polls. While the last six polls have all shown higher support for leaving the EU than remaining a part of the single market, bookmakers are still showing the betting market that the UK will vote to remain in the EU. Ladbrokes, for instance, is showing a 64% implied probability in favour of Remain. This backdrop and news of the suspension of campaigning prompted an unwinding in sterling short positions yesterday. The pound is sitting 2% above the two-month low seen yesterday against the dollar at 1.4012 and currently trades at 1.4290. There was also major volatility yesterday, on the Gold market as a dramatic reversal from recent highs at $1315 took hold. The key commodity declined almost 3% to trade as low as $1276 before recovering to the $1280 -1285 level.
Sentiment is the major driver of the markets at the moment with technicals and fundamentals taking a back seat. These wild intra-day swings and volatility will persist until the resolution of the UK Referendum. This is likely to be "around breakfast time" (anywhere between 03:00-05:00 GMT) next Friday June 24, however , there is considerable uncertainty about when the actual national declaration will take place as it is dependent on all 382 local totals being declared.
Although there is no official exit poll, referendum rules do allow exit polls on the day of the referendum so long as they are not published until after polls close (19:00hrs GMT). The UK hedge fund industry has commissioned private exit polls to get an early warning of the result and this will inevitably move sterling as they take their positions based on the result of their polling.  However, doing an exit poll in a referendum is very difficult as there is not a lot of past data on which to base your findings. There have not been many referenda in the UK and therefore it is difficult to get the methodology correct.  The major UK media outlets will not be publishing exit polls due to these problems. So, as always, trade with strict risk management and expect increased volatility to be the only constant in the week ahead.
Want to learn to trade and analyse the markets? Join our webinars and get analysis and trading ideas combined with better understanding on how markets work. Click HERE to register for FREE! The next webinar will start in: 
Stuart Cowell
Market Analyst 
HotForex
Disclaimer: This material is provided as a general marketing communication for information purposes only and does not constitute an independent investment research. Nothing in this communication contains, or should be considered as containing, an investment advice or an investment recommendation or a solicitation for the purpose of buying or selling of any financial instrument. All information provided is gathered from reputable sources and any information containing an indication of past performance is not a guarantee or reliable indicator of future performance. Users acknowledge that any investment in FX and CFDs products is characterized by a certain degree of uncertainty and that any investment of this nature involves a high level of risk for which the users are solely responsible and liable. We assume no liability for any loss arising from any investment made based on the information provided in this communication. This communication must not be reproduced or further distributed without our prior written permission.