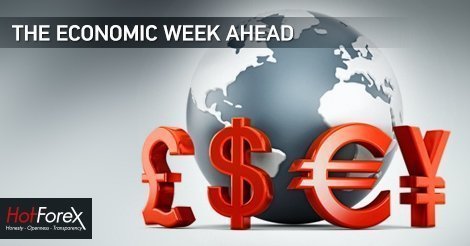 The Main Macro Events This Week
United States: The light data calendar will be an afterthought this week, even with tier 1 housing figures and durables on tap. May existing home sales (Wednesday) are forecast rising 0.9% to a 5.50 mln rate, which would be a third straight monthly gain and would be the strongest sales pace since early 2007. The FOMC noted in its June policy statement that the sector had continued to improve. Prices have also been on the rise amid solid demand and a lack of inventory. The FHFA home price index (Wednesday) is likely to extend higher too. New home sales (Thursday) are expected to drop 12.8% in May to a 540k pace, mostly unwinding the surprising 16.6% April pop to an expansion high 619k clip (best since January 2008). The always volatile durable goods report (Friday) is expected to show a 1.0% drop in May orders, partially correcting from April's 3.4% surge (mostly due to transportation orders). Consumer sentiment (Friday) is expected unchanged at 94.3 for the final reading from the University of Michigan survey, from the 94.3 preliminary print, down from May's 94.7. The Markit flash manufacturing (Wednesday) and services (Friday) readings are also due.
Canada: In Canada, thin calendar has April wholesale trade and retail sales, which will finalize the April GDP forecast. April wholesale shipments are expected to rebound 1.0% in April after the 1.0% drop in March. Retail sales are seen rising 0.7% following the 1.0% decline in March. The retail sales ex-autos aggregate is projected to grow 0.6% in April after the 0.3% gain in March. There is nothing from the Bank of Canada this week. The next scheduled event is the announcement and MPR on July 13.
Europe: The data calendar has German ZEW Economic Sentiment (Tuesday) and again, the outcome will very much depend on when the responses came in. We expect the Brexit debate to overshadow the survey that focuses on investor confidence and forecast a decline in the June headline reading to 6.0 (median 7.4) from 6.4 in May. The June German Ifo Business Climate index (Friday) is also expected to have eased slightly, as growth momentum slows down, and we are looking for a drop to 107.5 (med same) from 107.7, driven mainly by a decline in the expectations number. Preliminary May PMI numbers (Thursday) meanwhile are unlikely to show a big shift in sentiment. French numbers, which continue to underperform, could improve slightly, but German readings continue to come off highs. This is expected to show the overall Eurozone manufacturing PMI falling to 51.5 (med 51.4) from 51.5 and the services reading steady at 53.2 (median same). The data calendar also has German retail sales, French national confidence data and Italian orders numbers as well as German PPI data.
United Kingdom: The data calendar this week is quiet, and will be overlooked. Government borrowing data for May (Tuesday) and the CBI industrial trends survey for June (also Tuesday) highlight. The week of the Brexit referendum has finally arrived. A high turnout is likely on Thursday, and the outcome may cast an impact that could be, in the words of the BoE last week, "perhaps global" (much to the chagrin of Brexit supporters). Polling over the last couple of weeks has signaled a notable shift in support to the "Vote Leave" campaign, though bookmakers still show an implied probability for the UK to remain in the EU. In the mix is the tragic murder of pro-EU MP Jo Cox, last Thursday, which, as some argue, could bolster the Remain camp. Our hunch is that undecided voters are more likely to fall on the Remain side of the fence come the day of the vote on a fear-of-the-unknown psychology. The 2014 referendum on Scottish independence saw a vote-day swing in favour of remaining in the UK in what many onlookers at the time observed to be on a "vote with the head and not the heart" rational.
China: Apart from the CB Leading Index on Wednesday and MNI Business Sentiment Indicator on Thursday there are no economic releases scheduled for this week.
Japan: Japan's docket kicked off with the May trade report, where the exports shrank by 11.3% annually while imports decreased by 13.8% from year before. The April all-industry index (Tuesday) is expected to improve 0.6% m/m from the prior 0.1% gain. Revised April leading and coincident indices (Thursday) are forecast to be unchanged at 7.7% m/m and 1.0% m/m, respectively. The June flash Markit manufacturing PMI is also due (Thursday). May services PPI (Friday) likely posted a 0.2% y/y pace, unchanged from April's reading.
Australia: In Australia, the Reserve Bank of Australia releases the minutes to the June meeting (Tuesday). The RBA left its official cash rate unchanged at 1.75% in June, as had been widely anticipated. Recall that the central bank unexpectedly cut rates in May to 1.75% from 2.00%, following an unexpected drop in Q1 inflation. This week's thin calendar also has the Q1 home price index (Tuesday).
Click here to access the HotForex Economic calendar.
Want to learn to trade and analyse the markets? Join our webinars and get analysis and trading ideas combined with better understanding on how markets work. Click HERE to register for FREE! The next webinar will start in:
Janne Muta
Chief Market Analyst
HotForex
Disclaimer: This material is provided as a general marketing communication for information purposes only and does not constitute an independent investment research. Nothing in this communication contains, or should be considered as containing, an investment advice or an investment recommendation or a solicitation for the purpose of buying or selling of any financial instrument. All information provided is gathered from reputable sources and any information containing an indication of past performance is not a guarantee or reliable indicator of future performance. Users acknowledge that any investment in FX and CFDs products is characterized by a certain degree of uncertainty and that any investment of this nature involves a high level of risk for which the users are solely responsible and liable. We assume no liability for any loss arising from any investment made based on the information presented here.