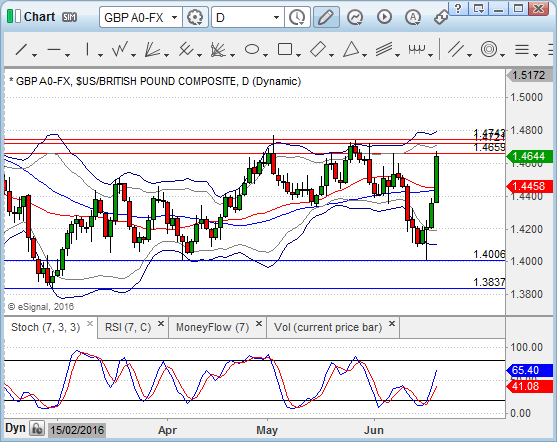 GBPUSD, Daily
The two latest polls published on June 17th and 18th support the view that the Remain camp will win. Rising from behind and being at par with the Leave camp in the poll from 1th and and leading by 3% in the latter June 18th poll Remain camp seems to have the momentum on their side. Currency markets have been reflecting these polls by rallying strongly. GBPUSD is up by more than 3% over the last two days. Another supporting factor for the Sterling bulls has been the likelihood of higher turnout in the referendum following the MP's murder. It was feared earlier that many of the Stay campaign supporters might not bother to vote but now the sentiment has changed and people are expected to register their opinion against the brutal act and come to vote in higher numbers.
Even though this is not fair on the Remain campaign who had nothing to do with the murder this sentiment change has increased the betting odds for the UK staying in the EU. Reuters reports today that betting agency William Hill's odds for the UK remaining in the European Union are now at 83%.
GBPUSD is now trading near the May highs after creating a weekly hammer candle last week. This is technically a strong bullish sign but at the same time the pair is trading near resistance levels and could be vulnerable to corrections. Therefore trading approach should be careful as well. I posted earlier today a brief analysis on GBPUSD on my Facebook page (Link) which reflected this reality. I posted a support level and suggested that the price is likely to move higher but the due to the fact that major resistance is relatively close, both my targets were fairly conservative. Both targets T1 at 1.46 and T2 at 1.4625 were hit soon after the London session opened. Send me a Facebook friend request in order to follow these short analyses as well.
Want to learn to trade and analyse the markets? Join our webinars and get analysis and trading ideas combined with better understanding on how markets work. Click HERE to register for FREE! The next webinar will start in:
Janne Muta
Chief Market Analyst
HotForex
Disclaimer: This material is provided as a general marketing communication for information purposes only and does not constitute an independent investment research. Nothing in this communication contains, or should be considered as containing, an investment advice or an investment recommendation or a solicitation for the purpose of buying or selling of any financial instrument. All information provided is gathered from reputable sources and any information containing an indication of past performance is not a guarantee or reliable indicator of future performance. Users acknowledge that any investment in FX and CFDs products is characterized by a certain degree of uncertainty and that any investment of this nature involves a high level of risk for which the users are solely responsible and liable. We assume no liability for any loss arising from any investment made based on the information presented here.