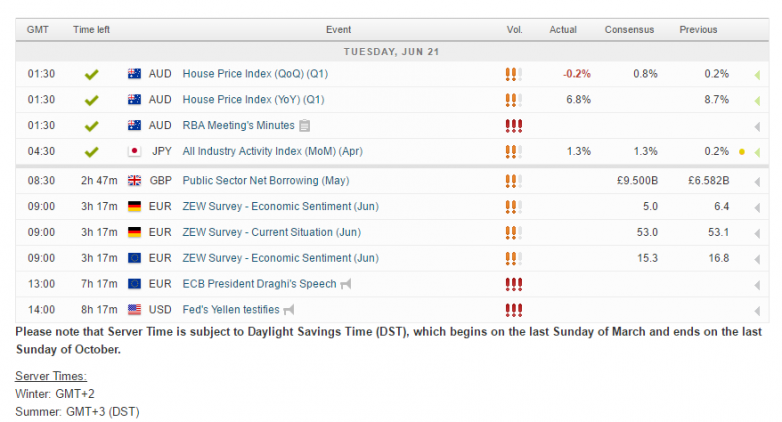 FX News Today
European Outlook: Stock markets continued to move higher in Asia overnight, but outside of Japan gains were rather modest and U.K. stock futures are already heading south again, pointing to some correction in equity markets, after yesterday's strong gains. The latest Brexit polls are pointing in different directions and will remind markets, that Thursday's vote will be a very close call. It will also be decisive for the Eurozone outlook and today's ZEW reading will come not only with a wider error margin, but also will be irrelevant if the U.K. votes to leave the EU. The European calendar also has U.K. public finance data and ECB's Draghi is scheduled to speak to the European Parliament today.
Japan's Industrial Activity picks up: Better than expected production from all sectors of the Japanese economy. PM Abe has also been speaking stressing that the government's top priority is to completely exit deflation and grow the economy through negative interest rates. He also emphasized the need to protect low-income pensioners and raised the possibility of an extra budget once tax revenue estimate is completed. He also stated clearly that monetary policy methods were the responsibility of the BOJ and not the ministry of finance.
 Fedspeak: Minneapolis Fed's Kashkari said capital rules may stifle lending in the U.S. in remarks to a symposium on Too Big to Fail. While he continued to agree that banking reforms and increased capital are essential in the wake of the 2008 financial crisis, if the pendulum swung to far back to regulation, that could come at the cost of lending and economic growth. That could also increase the risks taken by non-banks such as hedge funds and insurance companies.
US data reports: US Producer Sentiment Resumes Climb in June: The early-month producer sentiment measures reversed recent setbacks with June bounces, as disruptions from the May vehicle assembly rate plunge to an 11.4 mln clip are reversed. We expect the ISM-adjusted average of the major sentiment measures to rise to 50 in June from the 49 average in May that was also seen in January and February, though June sentiment still looks poised to undershoot the 53 recent-peak in March.
Main Macro Events Today
German ZEW: ZEW Economic Sentiment comes with a wider error margin than usual, as very much will depend on when the responses came in as market sentiment swung widely over the past week, amid the changes in Brexit polls. We expect the Brexit debate to overshadow the survey that focuses on investor confidence and forecast a decline in the June headline reading to 6.0 (median 7.4) from 6.4 in May. If the U.K. votes to leave forecasts will have to be rewritten also for the Eurozone, as the fallout will clearly impact the economic outlook even if it takes at least 2 years before the U.K. can actually leave the EU.
Yellen Testimony: Fed Chair Yellen's Monetary Policy Report to Congress highlights in the U.S. though her comments will be anticlimactic after last week's FOMC. We don't expect any significant changes from the dovish tone set last week where there was surprisingly large downward revisions in the official GDP estimates for 2016, along with downward bumps across the forecast horizon, which in turn made for a much shallower path of normalization. While she'll try to present cautiously optimistic front in her verbal sparring with Congress, she'll have to acknowledge the downside risks manifest in the Fed's forecasts.
Want to learn to trade and analyse the markets? Join our webinars and get analysis and trading ideas combined with better understanding on how markets work. Click HERE to register for FREE! The next webinar will start in: 
Stuart Cowell
Market Analyst 
HotForex
Disclaimer: This material is provided as a general marketing communication for information purposes only and does not constitute an independent investment research. Nothing in this communication contains, or should be considered as containing, an investment advice or an investment recommendation or a solicitation for the purpose of buying or selling of any financial instrument. All information provided is gathered from reputable sources and any information containing an indication of past performance is not a guarantee or reliable indicator of future performance. Users acknowledge that any investment in FX and CFDs products is characterized by a certain degree of uncertainty and that any investment of this nature involves a high level of risk for which the users are solely responsible and liable. We assume no liability for any loss arising from any investment made based on the information provided in this communication. This communication must not be reproduced or further distributed without our prior written permission.